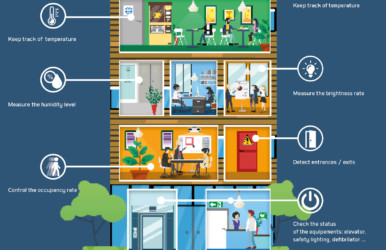 Adeunis
Adeunis announces the launch of two products dedicated to Smart Building
adeunis®, the expert in Industrial Internet Of Things (IIoT) solutions, announces the launch of two sensors dedicated to the Smart Building market: Motion and Comfort. Respectively for measurements of brightness / presence and temperature / humidity, these sensors will be presented at the IBS show, on November 6th and 7th in Paris - Porte de Versailles. The aim of this range is to enable building managers to control and optimize the energy performance of their structure, while ensuring maximum comfort for their occupants.
IoT at the service of the energy transition
A major issue in the ecological transition, building is by far the largest energy consumption item in France with 44% of the energy consumed for residential and tertiary buildings. Facility managers, energy managers, or design offices therefore have a key role to play in finding the most optimal techno-economic solution and thus lowering the energy bill. With the rise of the Internet of Things, they now have a range of solutions to ensure a balance between the comfort of users and the operating costs of the building. Problem that places connected objects at the heart of the energy transition.
Optimize energy consumption and ensure occupant comfort
Newcomers to the adeunis® product range, the Motion and Comfort sensors are designed for brightness / presence and temperature / humidity measurements. They have been designed to meet the challenges of simplicity of installation and use. They adapt to the needs of the user and operate in periodic modes and on alarms. Their autonomy is optimized, thanks to a new software allowing the historization of the data and thus the optimization of the frames. These sensors are available under LoRaWAN, Sigfox and WMBus technologies to adapt to all needs and environments. The goal is to integrate easily with any type of building.
Motion and Comfort are part of a complete infrastructure of adeunis® products and services that enable the implementation of intelligent communication systems for buildings and therefore the energy transition.
Thanks to the KARE device management tool, adeunis® is present throughout the data life chain. Thus the brand is positioned upstream with the manufacture of connected objects, until the provision of transmitted data, via the integration of connectivity, or the maintenance in operational conditions of the sensor fleets.
For all building managers, whether tertiary, public or industrial, adeunis® products provide a global response to the challenges of building management, both on issues of multi-service management, as multi technical.