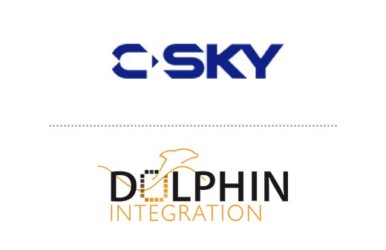 Dolphin Design
C-SKY Microsystems selects Dolphin Integration's energy management offering for smart voice-interacted devices
Dolphin Integration, the leading provider of solutions for Energy Management, and Hangzhou C-Sky Microsystems, a China-based embedded microprocessor core IP provider, announced today their collaboration on an ultra-low power human-machine interface SoC platform. In this collaboration, C-Sky has licensed from Dolphin Integration a complete and consistent offering of silicon IPs, together with the PowerVision™ simulation platform, to design a new generation of SoC platform capable of demonstrating human-machine voice recognition interactions.
"The emergence of powerful voice recognition algorithms drives the growth of connected devices controlled by voice, where voice recognition and ultra-low power technologies are key to delivering the optimal user experience," said Thomas Xu, VP of Marketing at C-Sky. "The complete set of Foundation, Feature and Fabric IPs of Dolphin Integration will allow us to demonstrate fast and safely a human-machine interaction system relying on a C-Sky microcontroller-based SoC platform".
Based on C-Sky's energy efficient embedded processor core, human-machine interaction platforms will adopt advanced voice processing alogirthms so as to ensure maximum voice clarity and intelligibility in any environment and from any direction. To combine at once the longest operation on battery without recharge with always-on and high performance voice recording, C-Sky microcontroller-based SoC platform will embed the Dolphin Integration breakthrough WhisperTrigger™, an ultra low power voice activity detection IP, together with their high dynamic range and low noise floor audio CODEC.
"By leveraging our "Trio" offering, combining state-of-the-art Silicon IPs with a unique simulation platform, for power noise integrity driven design, and advanced design methodologies, all proven in the Taishan Demochip at 55 nm, C-Sky can exploit the capabilities of its CPU to deliver compelling demo systems." said Frederic Renoux, director of sales at Dolphin Integration. "We are pleased to support C-Sky to meet the demands of an increasingly voice-interacted world."
About C-Sky Microsystems
Founded in Hangzhou China in 2001, C-Sky focuses on high-performance and (ultra) low-power 32-bit embedded processor IP. It has a scalable roadmap targeting a broad range of embedded applications, which include multimedia, consumer, security, network, low-power computing, smart grid electronics and smartcards. It provides a valuable array of embedded cores, SoC platform, software tools, middleware and OS. The available embedded cores are based on the C-Sky self-defined ISA, optimized for code density, performance and scalability. C-Sky has over 70 licensees who has delviered more than 500 million SoCs with C-Sky cores inside.
For more information, visit: www.c-sky.com
Contact: Jacky ZE, qiming.ze@c-sky.com
About Dolphin Integration
Dolphin Integration contributes to "enabling low-power Systems-on-Chip" for worldwide customers - up to the major actors of the semiconductor industry - with a unique offering of high-density Foundation, Feature and SoC Fabric Silicon IP components best at low-power consumption.
Over 30 years of experience in the integration of silicon IP components with complementary EDA solutions, providing ASIC/SoC design and fabrication, make DOLPHIN Integration a genuine one-stop shop addressing all customers' needs.
It is not just one more supplier of Technology, but the provider of the DOLPHIN Integration know-how!
To learn more, visit www.dolpin-integration.com
Contact: Aurélie Descombes, aurelie.descombes@dolphin-integration.com