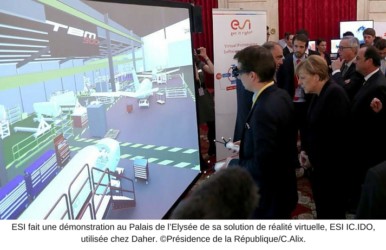 ESI Group
ESI Group : Immersive Virtual Prototyping
ESI and DAHER showcase Immersive Virtual Prototyping
at the French-German Digital Conference in Paris
roundbreaking digital technology fosters industrial development and innovation
ESI Group, pioneer and world-leading solution provider in Virtual Prototyping for manufacturing industries, was invited to participate in the French-German Digital Conference, held on October 27 at the Elysée Palace in Paris. During the conference, French Minister Emmanuel Macron and German Minister Sigmar Gabriel presented their "Action Plan" for an ambitious digital strategy in Europe, and related societal challenges. They were then joined by French President François Hollande, German Chancellor Angela Merkel, and President of the European Commission Jean-Claude Junker to witness demonstrations of selected innovative technologies, including ESI's Immersive Virtual Prototyping solution as used by aircraft manufacturer Daher.
French company Daher uses ESI's Virtual Reality solution ESI IC.IDO to optimize their assembly lines and increase productivity. Thanks to Virtual Reality, Daher's engineers can assess assembly processes very early in the product development phase, before they commit to major investments and before any real prototype is built.
The demonstration at the Elysée showed officials how Daher uses ESI's solution to fine-tune the final assembly lines (FAL) of the TBM 900, the latest addition to the Daher's very fast turboprop aircraft family.

For videos of ESI's Immersive Virtual Prototyping solutions : ESI's dedicated YouTube playlist