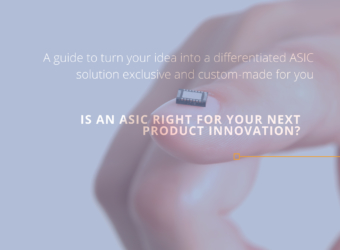 IC'APLPS : New guide by IC'Alps helps organizations successfully introduce a custom integrated circuit into their product
Meylan, FRANCE – November 09, 2020 - IC'Alps, French design house, today announced a guide developed by custom integrated circuit (IC) design and supply experts to provide organizations with all the important information they could need about custom IC design and why their electronics system should use it.
Developers can choose to build their electronics system with a general purpose discrete solution, comprising a set of off-the-shelf components (COTS). There is all-in-one alternative to COTS: an Application-Specific Integrated Circuit (ASIC) - an integrated circuit (IC) chip customized for a particular use and customer exclusive.
But why going through the process of designing an ASIC from scratch when an organization can leverage off-the-shelf and silicon proven components from leading vendors?
This new guide by IC'Alps outlines some of the virtues of Application Specific Integrated Circuits (ASIC) relative to a discrete alternative, and supported by different use cases.
In this way
- RoI for introducing an ASIC could be less than 1 year
- An ASIC could divide power consumption by a factor 10
- An ASIC could help achieve application-specific form factor requirements, impossible to reach with a COTS approach
Available for immediate download from IC'Alps website, the guide offers answers to questions such as:
- What are the market trends driving ASIC demand?
- What is ASIC technology? How can it drive down costs? Supported by 3 RoI examples
- What are the benefits of designing an ASIC? With illustration through 4 use cases
- An ASIC design flow, timeline and cost structure from specification to production
To download the guide: https://www.icalps.com/advantages-custom-integrated-circuit/