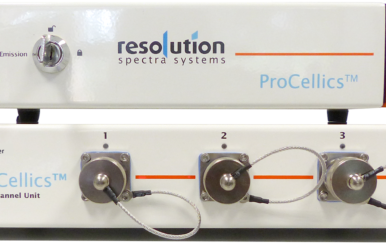 Merck
ProCellics™ In-Line and Real-Time Bioprocess Raman Analyzer Multi-Channel Unit new option
Grenoble, FRANCE, July 16, 2018 – ProCellics™, first In-Line and Real-Time Bioprocess Raman Analyzer, is a RESOLUTION Spectra Systems product. It offers a GMP user-friendly and easily deployed Process Analytical Technology (PAT) solution. Specifically designed for in-line and real-time analytical monitoring of upstream and downstream processes, ProCellics™ relieves the user from conducting a costly and time-consuming Raman monitoring implementation.
This new Multi-Channel Unit comes as an option of ProCellics™ and enables to operate up to 4 probes from a single analyzer. It allows a fast 1st multivariate calibration when running multiple parallel batches simultaneously, an even more affordable cost per measurement point and robust models catching setup variability ease transfer between devices.
In USP, ProCellics™ can measure, among others, the concentration of glucose, lactate, glutamine, glutamate, ammonium and other amino acids, proteins, Total Cell Density and Viable Cell Density inside the bioreactor. In DSP, it allows the monitoring of key processes such as ultra-filtration, chromatography and inactivation.
For more information on ProCellics™ Multi-Channel Unit, please visit:
www.resolutionspectra.com/products/procellics/#multi-channel-unit
RESOLUTION Spectra Systems
Grenoble, FRANCE
www.resolutionspectra.com
delphine.simiand@resolutionspectra.com