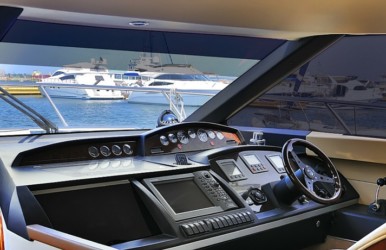 Vision Systems
VISION SYSTEMS: Singapore Airshow-Vision Systems and AAR in partnership
Vision Systems is a world leader in solar protection solutions for the aeronautic market, developing Electronically Dimmable Windows based on SPD technology (Suspended Particle Device). These solar protection systems are now mature products already installed or being installed in aircrafts and helicopters, such as RUAG's refurbished Falcon 900. The demand for retrofit projects is growing rapidly; there are currently several new projects under way, especially for airlines and completion centers.
AAR is an industry-leading provider of aviation aftermarket services and nose-to-tail solutions for commercial airlines, original equipment manufacturers and governments. AAR announces Wednesday at the Singapore Airshow it has been selected by Vision Systems to integrate Electronically Dimmable Windows solutions for retrofit programs in Asia, Middle East, Africa and North America.
Vision Systems and AAR decided to combine their skills in order to propose complete product and service offerings. Vision Systems' customized solutions are delivered as a whole to replace the entire inside window including the casing and the dust panel. These systems have no moving parts as the electronics is fully integrated, reducing maintenance costs and downtime. They can be applied to flat or curved surfaces (2D, 3D), plastic or composite glass.
The installation, wiring and STC of Vision Systems' Electronically Dimmable Windows will be managed by AAR, as well as maintenance and customer support.