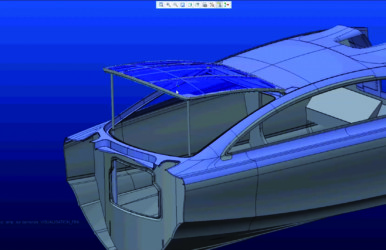 Vision Systems
VISION SYSTEMS' STRATEGIC STEP IN THE MARINE MARKET WITH SILVER ARROWS MARINE
On the strength of its expertise in Electronically Dimmable Windows for the aeronautic market, Vision Systems confirms its presence in the boat industry with the development of superior solar protection solutions, providing sleek design and enhanced comfort, for Silver Arrows Marine.
Following Silver Arrows Marine's ambition to conceive a motor yacht presenting many of the design features contained in luxury cars, Vision Systems is developing car-like electric opening side windows and a dimmable-glass roof on which the front part rises up to create a "glass pergola" effect. Vision systems' in-house know-how in kinematics, hydraulic systems, electronics and composite allows the company to provide complete customized systems, Electronically Dimmable Windows including attachment, seal and support, frame in composite or stainless steel, opening mechanisms, and safety devices.
"As an architect of innovations, we are very proud to be part of this splendid project. This key reference in the yacht industry is a great encouragement in our willingness and capacity to innovate", stated Carl Putman, CEO of Vision Systems. "The complete systems with Electronically Dimmable Windows are breakthrough solutions in the marine market. By exploring new concepts, Silver Arrows Marine revolutionizes the yacht industry with never-before-seen innovations and never-before-lived on-board experience."
"We are aware that ARROW460 - Granturismo is a very challenging project, "says Jacopo Spadolini, CEO of Silver Arrows Marine." With Mercedes-Benz Style, we have created a new formal language in the yachting Industry. Vision Systems has worked closely with us to transform ideas into realities. We are pleased to have found a company able to initiate a co-engineering from a blank sheet of paper "without preconditions" and provide large sliding and lifting windows with high end technologies."
Presented at METS trade show from 17th to 19th November, Amsterdam, Netherlands, Vision Systems' Electronically Dimmable Windows offer a luxury interior design while preserving the view. Based on SPD technology, they are instantly and gradually dimmable from clear to dark to regulate the amount of light and heat entering the boat. They enable more thermal comfort and lower cooling costs as dark when unpowered, and also provide complete privacy by turning dark, opaque white or by integrating a specific coating. Vision Systems' Electronically Dimmable Windows confer instant and precise light-control through a touch panel or on personal tablet. These solutions are suitable for retrofit or new constructions, glass or thermoplastic, flat or curved windows. Furthermore, they are easy to install and to maintain as all the electronics is integrated.