Focus on Minalogic's seven target markets
06/02/2017
Minalogic ecosystem innovating and shaping the future

Minalogic supports its members' business competitiveness and growth by leveraging the ecosystem's collective capacity to drive the joint R&D projects and business partnerships that fuel technological innovation.
The Minalogic ecosystem is at the state of the art in technologies across the digital value chain and boasts a network of members and partners who all share one thing in common: they make innovation a priority.
Minalogic members develop and commercialize the kind of innovative, differentiating technologies that boost business competitiveness. Minalogic helps its members at every stage of their innovation strategies through a comprehensive range of services tailored to their needs.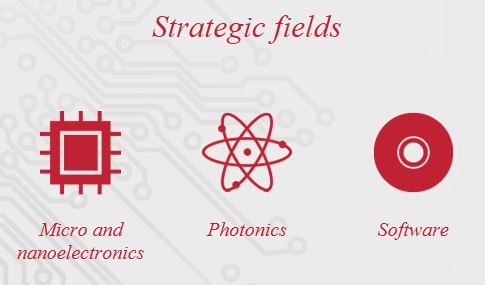 The cluster focuses on three strategic technology families: micro and nanoelectronics, photonics, and software. These technologies address a broad range of needs on Minalogic's seven target markets.

Read (or re-read) our Minalogic "focus" article archives,
with publications from April 2016,
and learn more about Minalogic's activities on its seven target markets
Minalogic sharpens focus on IoT

Minalogic ecosystem home to know-how crucial to IoT expansion

Minalogic sharpens focus on healthcare

Minalogic ecosystem establishes foothold in high-potential healthcare market

Minalogic sharpens focus on energy

Minalogic ecosystem helping shape tomorrow's energy landscape

Minalogic sharpens focus
on Factories of the Future (FoF)

Minalogic news, members,
and projects in the field of FoF

Minalogic sharpens focus
on Smart City technologies

Minalogic ecosystem helping shape
tomorrow's Smart Cities 

Minalogic sharpens focus on mobility

Minalogic ecosystem helps drive innovative mobility solutions

Minalogic sharpens focus
on mountain and other sports

Minalogic ecosystem establishes foothold in this attractive market