Minalogic key supporter of the region's tech businesses at CES 2016
11/02/2016
The Auvergne-Rhône-Alpes delegation's trip was a success, with several local startups—and Minalogic members—winning awards.
The Consumer Electronics Show (CES) Las Vegas is a global giant of an event, and one that many Minalogic members dream of attending. For the third year running, Minalogic has included CES Las Vegas in its International Development Plan in partnership with Imaginove, Clust'r numérique, and ARDE, with the support of the Auvergne-Rhône-Alpes regional government.
CES is a priority for Minalogic members. This year the cluster ramped up its efforts to promote the French Tech digital ecosystem in Auvergne-Rhône-Alpes, travelling to the event with 34 innovative startups and other stakeholders in the region's digital economy, such as LyonFrenchTech, the organizers of IoT meeting SIDO, and Sporaltec.
Payback from the trip has come in various forms for Minalogic and its members:
A valuable opportunity to communicate internationally (for Minalogic members that exhibited at CES), amplified by Minalogic's press relations and social media campaigns

Meetings with sales leads and potential partners for all companies that attended

The latest market trends and insights, which Minalogic will share with all of its members
 
Throughout the show members of the Minalogic team worked tirelessly to connect Auvergne-Rhône-Alpes startups with corporate decision makers at the event.
"I haven't stopped pounding the pavement since we arrived," said Minalogic General Manager Isabelle Guillaume. "We are here to support startups' growth, but we are also facilitators. Which means introducing our SMEs to the corporations here at the show and making sure they meet with the right people."                                
                                  As quoted in French bimonthly economic magazine Les Acteurs de l'Economie
Preparation the key to this very successful trip
In the run-up to the event, a consultant with first-hand knowledge of CES prepped the attendees, who also got training in how to pitch their products in English. This targeted preparation positioned the startups in the delegation to bring home concrete business leads, take advantage of all of the opportunities to promote their businesses on site, and generally get the most they could out of their presence at the event.
Auvergne-Rhône-Alpes reports stellar performance
The largest delegation representing France (by number of businesses)

20% of French businesses exhibiting at Eureka Park from Auvergne-Rhône-Alpes

Auvergne-Rhône-Alpes businesses win six awards
Six businesses from the region (of the 19 French companies selected for the CES Innovation Awards) won awards; two award winners are Minalogic members

      Hydrao (Smart&Blue) in the Tech for a Better World category

 

      Ubiant in the Tech for a Better World category,

 

      Genii in the Home Audio Components & Accessories category

 

      De Rigueur in the Portable Power category

 

      In & Motion in the Wearable Technologies category  Member Profile

 

      Enlaps in the Digital imaging category  Member Profile

 

 

A measurable buzz on social media
Our Twitter (@Minalogic_EN) stats speak for themselves:
183 tweets between the launch of the 30-day pre-event campaign (dont 37 en propre et 146 ReTweetés) with more than 90 followers and more than 600 conversations!
A live-tweet (during CES) with more than 60 followers and 97 tweets including 14 of our own tweets that generated 454 conversations!
Here's what our members have to say about CES
Enlaps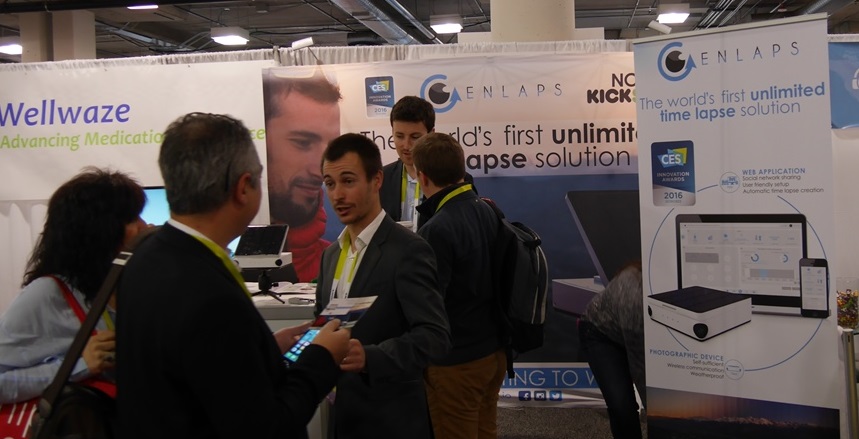 Antoine Auberton :
"CES Las Vegas was a success for our revolutionary new time-lapse film solution. We got several interviews and articles in the press and met with investors and potential manufacturing and distribution partners. And Minalogic played a crucial role in making CES 2016 a success for us. We got help before and at the event, we learned to pitch 'American style,' and get organized for the event so we didn't miss out on anything. Minalogic really got Grenoble's startups working together to tackle the event as a team and share our tips and tricks."
Bidul&Co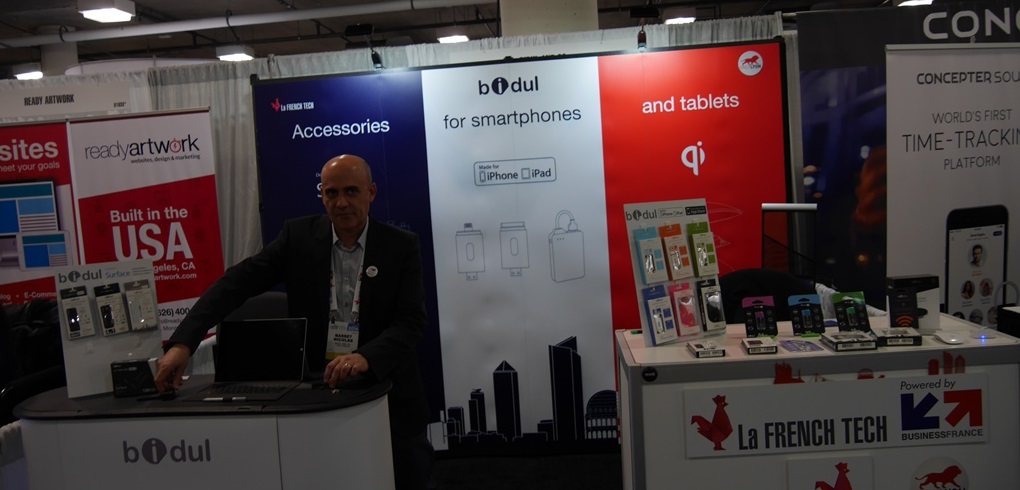 Philippe Beraldin :
"CES is a not-to-be-missed event for us; we've been exhibiting for a few years running now. It really is the place to be to meet potential distributors, both from France and other countries worldwide. We also manufacture Apple and Microsoft branded products under license, and CES is a great opportunity to check in with these key partners. This year we presented our new smartphone and tablet accessories, and the returns are already clear. We have several hot business leads, some thanks to Minalogic, and we also got a chance to network with other companies travelling under the French Tech banner and the Auvergne-Rhône-Alpes delegation."
 Aryballe Technologies
Tristan Rousselle :
"As a biotech entrepreneur, I am much more used to the BIO trade show, which is nothing like CES. Our booth at CES was in the Eureka Park section, a really energetic environment with innovative startups from a variety of fields. Our booth got a lot of traffic, including visitors from multinational corporations that had identified us before the event or that Leti or Minalogic introduced us to. In terms of results, we secured several sales appointments with consumer electronics and appliances companies in Silicon Valley. Minalogic's support really helped us raise our profile: French Minister of the Economy, Finance, and Industry Emmanuel Macron even came to our booth."