SIdO 2018: Minalogic's IoT ecosystem to be well-represented
03/04/2018

Minalogic Village
Come and meet with Minalogic representatives,
the Easytech team and our 16 exhibiting members
With more than 7,500 visitors and 350 exhibitors, SIdO is rapidly becoming a leading IoT trade event. The fourth edition of SIdO will take place on April 4 and 5 at Lyon's Cité Internationale expo center and will bring in leading IoT stakeholders seeking to invent—or reinvent—their IoT business models and transform their IoT ideas into connected projects !
Minalogic will be at this leading IoT trade event for the third year running, with a group pavilion that will showcase Minalogic member SMEs and startups and companies enrolled in the Easytech program administered by Minalogic.
Minalogic will be at SIdO to promote the diversity and innovation potential of the cluster's ecosystem, which offers a number of benefits in terms of addressing the high-growth connected object market.
Come see us at Minalogic Village and discover IRT Nanoelec's Easytech program, administered by Minalogic and supported by the Auvergne-Rhône-Alpes regional government, the French National Research Agency (ANR), and local governments from across the Auvergne-Rhône-Alpes region. The Easytech program delivers expert knowledge, support services, and financing to companies that would like to bring innovative new products to the market.
Minalogic will highlight the advantages of its IoT ecosystem at SIdO 2018
Of the 350 exhibitors at SIdO 2018, 41 are Minalogic members!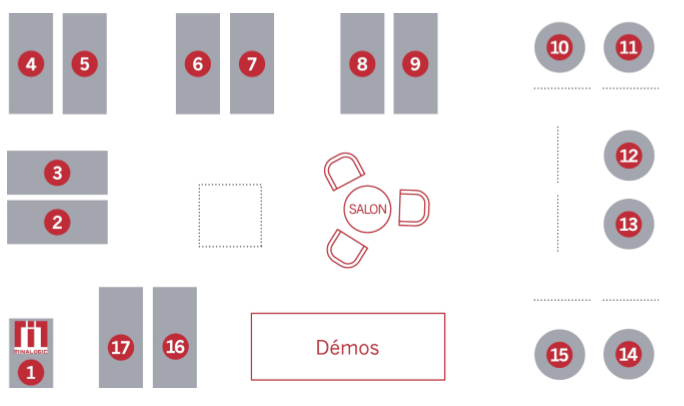 Come to Minalogic Village to meet 16 of our exhibiting members and discover and test their innovations
Minalogic will also be giving several talks at the event…don't miss them!
Wednesday, April 4, 2018 |10:30-11:30
IoT, the Pillar of Your Digital Transformation: How to Rise to Your Organization's Operational Challenges
Philippe Wieczorek, Director, Software Programs, Minalogic
https://www.sido-event.com/conferences/conf/199.html
Thursday, April 5, 2018 | 10:00-10:45
Digital Challenges in the Auvergne-Rhône-Alpes Region
Erasmia Dupenloup, Director, Business Development, Minalogic
Thursday, April 5, 2018 | 12:45-1:30
From Proof-of-Concept to Industrial Scale-up, a Method that Works
Eric Mottin, Director, Micro and Nanoelectronics Programs, Minalogic
https://www.sido-event.com/conferences/conf/207.html
Thursday, April 5, 2018 | 3:15-4:00
The Right Way to do Agile IoT: Partnerships as the Foundation of Your Strategy
Philippe Wieczorek, Director, Software Programs, Minalogic
https://www.sido-event.com/conferences/conf/209.html
 Minalogic members & partners exhibiting
 
Your Minalogic contacts on the SIdO
Erasmia Dupenloup | Director, Business Development
erasmia.dupenloup@minalogic.com | T : +33 (0)4 38 78 37 64
Damien Cohen  | Easytech program manager
damien.cohen@minalogic.com | T : +33 (0)4 38 78 32 09