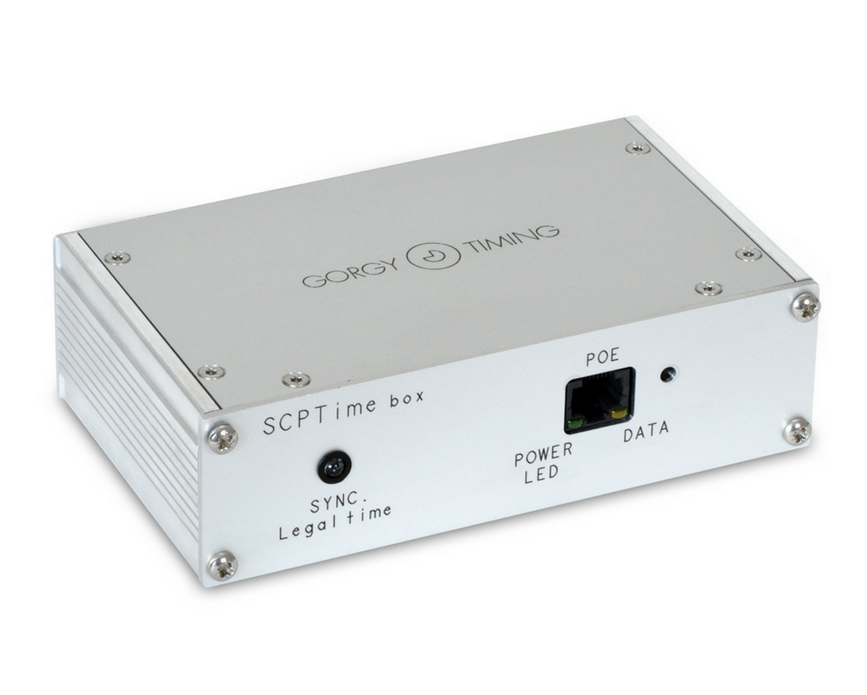 Product description
SCPTime is an end-to-end time production, distribution, broadcasting, and acquisition system. The system can be implemented on either an open network, or, for businesses that must keep their systems isolated, a closed network.

SCPTime was developed to produce and broadcast via IT networks an accurate, certified, traceable, and highly-secure universal time anywhere in the world.

The SCPTime Box gives users a legal, certified, tracked, and secure UTC. Two of the product's strengths are that it is linked to legal French time and data is traceable. The SCPTime Box delivers precise SCPTime to the customer. All synchronization data is tracked and logged.

SCPTime delivers accurate, secure legal time to secure servers to prevent jamming and cyberattacks. In today's digital economy, and with the advent of connected objects, these capabilities have become strategically important.

The product is suitable for organizations of all sizes seeking synchronization, time-stamping, and cybersecurity solutions.
Product history
In 2014 Gorgy Timing took the lead on the Minalogic-certified SCPTime project. This innovative, multi-partner R&D project earned France's PSPC seal for its capacity to shape an emerging industry. A total of 12 million euros was invested in R&D over the course of the 42-month project, which was approved by the Steering Committee for France's economic stimulus package, financed by Bpifrance, and signed on June 2, 2014 by France's Prime Minister.

Gorgy Timing is an innovative mid-sized business headquartered in Isere, France. For more than 40 years, the company has been innovating time and, in particular, time synchronization, solutions. Minalogic's support was a key factor in securing the necessary partners for the SCPTime project.

This international multi-partner project involved a consortium of partners with broad, deep knowledge of time and frequency technologies:
- Business: Gorgy Timing, Eolas, Tronics, Syrlinks, Muquans, and Tyleos.
- Academic research: the Paris and Besançon Observatories, the Institut Femto-ST of Franche-Comte University, France's National Metrology and Testing Lab.
- Users/integrators: Schneider Electric for integration into industrial and smart energy distribution systems; France's national rail operator, SNCF, for integration into large infrastructures; and Business & Decision for integration into data centers.

SCPTime responds to cybersecurity, efficiency, and legal time-stamping needs for the transportation, energy, and manufacturing industries. However, the technology is also of interest to banking transactions, emergency call centers, and video surveillance.