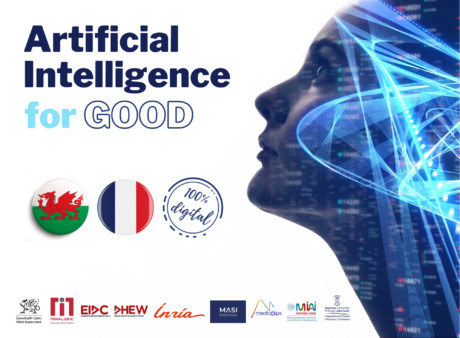 Contact

Date et horaires
Le 08/06/2021 de 09h00 à 16h00
Coût
Free of charge but registration is obligatory
Both Wales and the Auvergne-Rhône-Alpes region are homes to world-renowned expertise in digital technologies.
At the crux between the semiconductor industry, with chips becoming more and more powerful, and the software industry, with the production of colossal amounts of data, artificial intelligence, where machines "think" for themselves is becoming more and more prevalent. The applications of AI are countless but while we may sometimes think of AI as nefarious, with machines taking away jobs and autonomy, AI can and is being used for good, to improve our health and wellbeing and supporting sustainability.
The objective of this event is to introduce our two ecosystems to each other and establish working-level connections by uniting them around the theme of artificial intelligence and its applications.
By promoting on going collaborations from the Universities of Swansea and Grenoble and presenting financing opportunities for collaboration, the goal is to inspire participants to initiate connections between actors from industry and from research during the B2B networking session in the afternoon.
Companies, researchers and organisations working in AI that would be interested in collaborative projects
A one-day event :
Featuring talks and round tables on key themes and opportunities in areas
B2B meetings/breakout sessions between companies and researchers
Programme (UK Time)
09:00 – 09:30 (French Time : 10:00 - 10:30) - Opening Keynotes (key competencies, tendencies and players in our regions)
Keynote from Wales - Pete Burnap, Cardiff Uni

Keynote from the Auvergne-Rhône-Alpes region - Philippe Wieczorek, Minalogic et Andrea Busch, Invest in Grenoble

9:30 – 10:00 (French Time : 10:30 - 11:00) - Swansea and Grenoble Partnership
Talk about the AI partnership between the universities - Eric Gaussier, MIAI Grenoble Alpes & Matt Jones, Swansea University
Discuss the AI agriculture project as a successfully example for AI for Good collaboration - Alan Dix, Swansea University & Philippe Broun, MIAI Grenoble Alpes

10:00 – 11:00 (French Time : 11:00 - 12:00) - Funding opportunities
LSHW on AI in Healthcare opportunity with NHS - Helen Northmore, Life Sciences Hub Wale
A.I Regio open calls – Annabelle Sion, Pôle Polymeris
Eureka networking collaboration funding - Ben Morris, Innovate UK

11:00 – 11:30 (French Time : 12:00 - 12:30) - Inspiring talk on how AI can be applied - Ian Jones, AMPLYFi

Breakout sessions will allow networking and further discussion, inspired by the sessions.