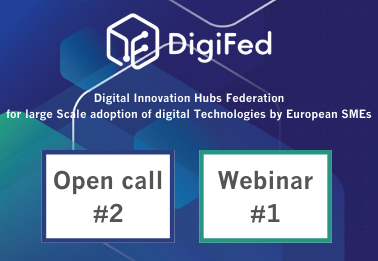 Contact

Date et horaires
Le 22/09/2020 de 10h00 à 11h00
In view of DigiFed's second Open Call to be launched on the 22nd September 2020, DigiFed is hosting a new series of webinars with updated information on how to participate.
In this series of four meetings you will be given information on the following DigiFed funding opportunities: "Application Experiments" and "Digital Challenges".
> September 22 :  In the first meeting you will learn:
Who can access the European grant?

How to apply?

Who are the partners?

What is in it for you?

Q&A to ask your questions directly to the project's coordination team.
> October, 1st : In the second session you will learn about a new innovation process: the "digital challenge".
> October 7 & 14 : Finally, DigiFed will host two technical web meetings to learn about the technologies made available for you in the frame of DigiFed.