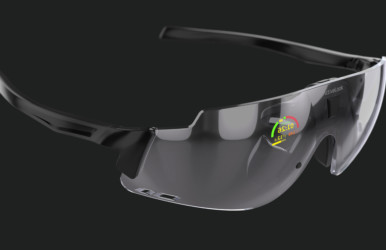 Microoled
MICROOLED Announces First Ultra-Low-Power Multi- Color Microdisplay for Lightweight Augmented Reality ("Lite AR") Eyewear
Ultra-Low Power Multi-Color Microdisplay for ActiveLook at AWE.
MICROOLED today announced the first of its kind ultra-low-power, multicolor OLED microdisplay for near-eye applications, which includes augmented reality ("AR") eyewear.
The new microdisplay features high brightness, multi-color, and ultra-low power consumption. Together, this feature set enables extremely low weight eyewear (40g or less), long operation time (12 hours or more), and nearly invisible technology through highly compact system design. This is a breakthrough for all-day comfort and extended wear of AR eyewear – market requirements for enterprise applications.
The new display provides high brightness multi-color of more than 10,000 nits which in combination with see-through optics allows for use in any environment, including outdoor ambient daylight, while requiring as little as 3mW of electrical power in typical operation. This reduces the size and weight constraints on the battery, and enables product designs that deliver transparent technology and long operation times.
MICROOLED CEO and co-founder Eric Marcellin-Dibon commented "It's well understood that AR use cases demand multicolor displays with high brightness. What has been less well understood is that these two attributes are very power-hungry. And high power requires high capacity batteries, which add volume and weight. However, studies have shown that people do not tolerate heavy eyewear greater than ~40g for extended wear. At MICROOLED, we have focused on delivering a display technology and system design that meets the market requirement for multicolor and high brightness, with exceptional power efficiency, which can greatly reduce the need for large batteries."
MICROOLED CTO and co-founder Gunther Haas added, "The combination of attributes that we are now able to deliver will enable our partners to create eyewear at 40g or less, which in turn opens up all-day comfort for use in commercial and industrial applications, also known as enterprise use cases. An extension of the multi-color color concept to full color is under development and will present the same features in terms of power efficiency and brightness thanks to our proprietary multi color microdisplay technology."
The new multicolor microdisplays will be publicly presented for the first time during the AWE Conference, which opens May 31 in Santa Clara, CA. MICROOLED will demo the new technology at Booth Number 522. In addition, MICROOLED's Mark Prince will present "Lite AR - MICROOLED's Solution for Enterprise Applications" at 5pm on May 31.
About MICROOLED:
MICROOLED specializes in the design, production and marketing of OLED microdisplays for near-eye applications (outdoor optical equipment, night vision glasses, ocular equipment for medical devices, augmented reality glasses, etc.). MICROOLED is a key partner of the world's top technology integrators with a unique technology that combines high resolution, high brightness, and low energy consumption. The company is the largest manufacturer of its kind outside of Asia, and one of the largest manufacturers, globally, in its historical markets.