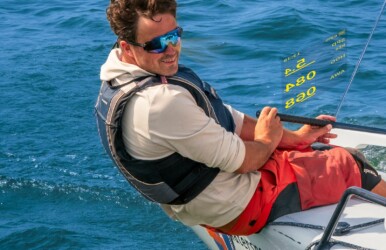 Microoled
MICROOLED Announces ActiveLook Integration with the NMEAremote app, to Deliver Real-Time and Hands-Free Sailing Data to Competitive Sailors
MICROOLED, the European leader in the manufacture of OLED micro-displays, is making ActiveLook technology compatible with the NMEAremote app for sailboat crew starting on October xx, 2023. This integration revolutionizes sailboat navigation by providing all the essential information directly and instantly within the sailor's field of view. ActiveLook is a heads-up display technology for connected eyewear combining low weight, low energy consumption and a very long battery life.
With ActiveLook technology, skippers and crew will have instant access to data like boat speed, wind,  heading or depth. This real-time data display allows skippers to concentrate on key activities. This ultra-light and portable technology is a convenient alternative to the stationary displays, which are difficult to look at during maneuvers. For the crew, it means having real-time information while maneuvering, without having to take out a smartphone, take eyes off the action, or otherwise lose situational awareness. It also means considerably lower power consumption for AR eyewear, calculated in milliwatts  (mW)  rather than in watts (W)
NMEAremote, a cutting-edge, user-friendly app, distributes comprehensive data from the boat's central data system (NMEA, Expedition, H5000) to an Apple mobile display such as iPhone, iPad, or Apple Watch. Developed by zapfware, this app has  a large community of "connected" sailors worldwide. Now, with its compatibility with ActiveLook technology, NMEAremote takes another leap forward in enhancing the sailing experience.
The most important data from NMEAremote is displayed on the ActiveLook-compatible smart glasses with heads up display grouped in dashboards according to the actual situation and accessible through gesture recognition. For instance, during the pre-start, the user will see the countdown as well as time and distance to the starting line. While actively racing, the dashboard provides critical data points such as boat speed, heading, and wind angles. Additionally, users can readily view performance matrices, encompassing polar speed performance and target wind angles, ensuring a comprehensive overview of their sailboat's performance. For leisure sailors, more dashboards are available, displaying speed and course over ground, depth of water or waypoint approach data.
Secondary data can still be viewed in the NMEAremote app on the phone, the associated watch app or other displays.
Eric Marcellin-Dibon, CEO of MICROOLED: "ActiveLook technology is already available for runners, cyclists, skiers, paragliders and other ultralight pilots. We decided to make it accessible to sailboat crews to enhance safety and performance. Thanks to this technology, they will be able to stay focused on managing the sails and the wind trajectory without taking their eyes off them."
For Benoît Lequin, professional skipper expert in ocean racing, who will be using the ActiveLook-NMEARemote solution during the Transat Jacques Vabre: "What's great about the "ActiveLook" glasses is that they combine lightness, sun protection and inform me of the boat's digital data (via the on-board NMEA, wind angle speed, wind strength .....), a real tool in the service of responsiveness and performance. While sailing, these glasses enable me to trim the boat more quickly, to steer without worrying about repeaters, or to rest with the data with me at all times".
Connected glasses with ActiveLook technology offer superior power efficiency, for up to 12h of continuous use. ActiveLook enables eyewear partners to deliver the lightest connected eyewear for outdoor sports to ever come to market, at only 36g. This lightness, comparable to standard glasses, provides performance and comfort for extended, all-day use.
MICROOLED has developed a specific and free interface that promotes an entire ecosystem around glasses. The software is patented and is based on a Bluetooth LE (BLE) layer. This software makes it possible to transmit intelligence and information with a very low impact on consumption.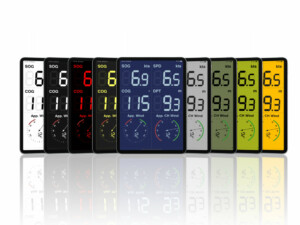 About MICROOLED | www.microoled.net
MICROOLED specializes in the design and manufacture of OLED micro-displays for near-eye applications (outdoor optical equipment, night vision goggles, ocular equipment for medical devices, augmented reality glasses, etc.). MICROOLED is a key partner of the world's best technology integrators with a unique technology that combines high resolution, high brightness and low power consumption. MICROOLED is the leading player in Europe and number two worldwide in its historical markets. The company is now looking to extend its leadership in the sports market with ActiveLook®, its open platform of « Light AR » solutions.
About zapfware | www.zapfware.com
Zapfware is a company located in Düsseldorf, Germany, founded in 2003 by Michael Zapf.
Michael Zapf started with iOS development in 2009 and the release of his first app in the Apple AppStore pathed the way for a number of contributions and releases for some really well-known companies.
As a passionate sailor, he released NMEAremote in 2010 as the first NMEA app in the AppStore. Made with passion for sailors by a sailor, NMEAremote has grown up to be a swiss army knife for marine, navigation and performance data and its versatile options won't lack any display needs.