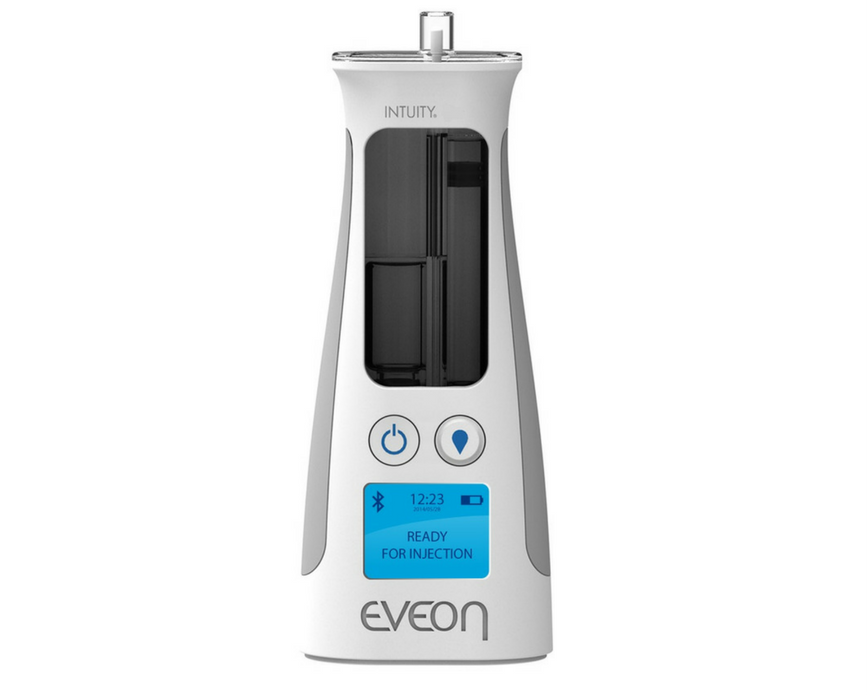 Product description
The Intuity® Ject drug injection system is completely automated, a major innovation. The system is intended mainly for the biodrug market, which requires precision dose accuracy capacity due to the high cost of the drugs.

Intuity® Ject truly stands out from other solutions on the market in that it enables fully automated subcutaneous, intramuscular and intradermal injections of tiny amounts of a drug with a high degree of precision. No other product on the market can currently make these claims.

Eveon's portfolio of micropump technologies, which includes a MEMS-based pump, gives the company a significant advantage. The MEMS pump makes it possible to inject just a few microliters with minimal drug losses. And, for the more expensive drugs on the market, a few microliters can cost in the tens of euros.

Intuity® Ject was developed for the following treatments:
> oncology (cancer)
> neurodegenerative diseases (Parkinson's)
> inflammatory and autoimmune diseases (rheumatoid arthritis and multiple sclerosis)
> respiratory diseases (cystic fibrosis)

Product history
The concept behind Intuity® Ject was inspired by the mosquito. Mosquitoes sting at the right depth, using five sensors and two pumps to inject their own anticoagulant and extract a dose of blood. The idea was to try to reproduce the mosquito particularly effective injection technique in an automated drug injection system.

Eveon headed the FluMin3 R&D project (with partners Grenoble Institute of Technology lab IMEP-LAHC, CEA-Leti, and Cedrat Technologies, and the support of Minalogic) to develop a prototype of the first-ever MEMS-based totally-automated injection system.

The project's primary objectives were to develop:
> A MEMS with a powerful micropump (the only of its kind currently to offer flow rates of 10ml/min) and sensors to measure injection parameters in real time, all on the same chip.
> Wafer-level integration of the MEMS compliant with biomedical requirements (biocompatibility, sterilization, and manufacturable on an industrial scale).
> A miniaturized, low-power actuator.
> Methods for the mechatronic integration and assembly of subcomponents and components compatible with the final product's size requirements and complexity.

Eveon plans to commercialize the product in several years. However, the R&D project positioned the company as a leader in technical solutions for automated systems on the international markets and, specifically, enabled Eveon to establish a solid reputation with European and US-based partners.