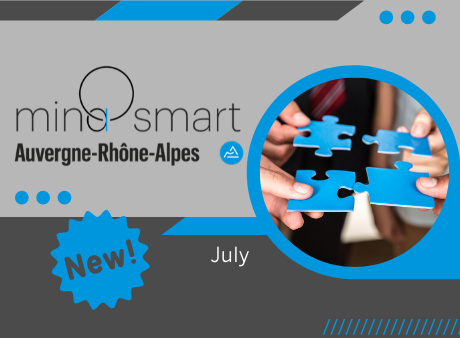 Contact

PUBLICATION DATE
23/07/2020
Lyonbiopôle joins the network and work starts on the MinaSmart EDIH proposal
Stay up to the minute on the latest developments from MinaSmart, the European Digital Innovation Hub for the Auvergne-Rhône-Alpes region, with a monthly update from MinaSmart Director Pierre-Damien Berger.
Lyonbiopôle rounds out MinaSmart's "digital core"
The MinaSmart network brings together a wide variety of stakeholders from our digital ecosystem. We are thrilled to welcome Lyonbiopôle to the network.
| | |
| --- | --- |
| | Cluster Lyonbiopôle is helping to build an innovative and fertile international-caliber medtech ecosystem in our very own Auvergne-Rhône-Alpes region. Founded in 2005, Lyonbiopôle is a member of France's national cluster network. It supports medtech companies and projects to develop the innovative technologies, products, and services that will shape tomorrow's healthcare landscape. Lyonbiopôle's four strategic focus areas are drugs for human health, veterinary drugs, diagnostics, and medical devices and technologies. |
French cluster federation EDIH working group
As we announced last month, we are initiating a series of workshops and other events (through French cluster federation AFPC) on the structure and development of the future EDIHs at the regional level and coordination at the national level.
At the first meeting, we were able to read through the French Directorate General for Enterprise's specifications for the call for expressions of interest in the construction of the EDIHs.
We now have the outline for the proposal due on September 30.
This is a key stage in the process: An initial selection will be made at the national level to go on to a more limited call for projects with an end-of-year deadline. It is this limited call for projects that will be used to select the EDIHs that will be established at the European level in 2021.
Would you like to learn more about MinaSmart? Contact :
Pierre-Damien Berger | Director, MinaSmart-DIH Europe
pierre-damien.berger@minalogic.com | T : +33 (0)4 38 78 06 12 | M : +33 (0)6 84 20 86 67