Erasmia Dupenloup appointed CEO of Minalogic
12/07/2022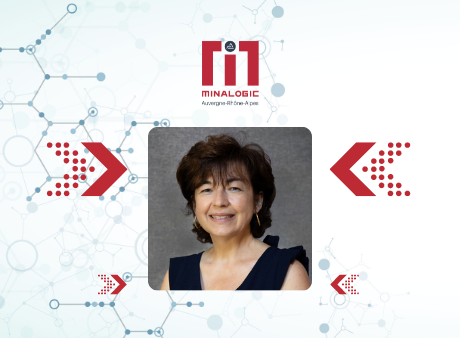 Minalogic announces the appointment of Erasmia Dupenloup as the cluster's CEO, effective July, 1st. She succeeds Jean-Eric Michallet, who has held the position since October 2019.
Erasmia Dupenloup obtained her M.S. in Software Engineering from the University of Grenoble, France, in 1984.
She began her career in 1982 as a software engineer at IMAG Research Lab, Grenoble, France. From 1987-89, she was a software engineer at Alsys in Paris, France, a startup founded by the inventor of the ADA language. She then was an application engineer at Hewlett-Packard in Cupertino, California, serving as on-site consultant at Cadence Design Systems. Prior to joining Minalogic, Erasmia was a Board Trustee at the Lycée Français la Pérouse in San Francisco.
Back to France, she joined Minalogic in 2012, as Director, Business Development. She has contributed to developing the cluster's expertise in bringing together large corporations, startups and SMEs to facilitate business opportunities and partnerships. She has led Minalogic to be a key player in Open Innovation. She is also in charge of the defense market and more specifically is in charge of the partnership with the French Ministry of Defense, which includes a very important topic on cybersecurity. Finally, she has worked at implementing tools aimed at strengthening the quality of interactions between Minalogic and its members, and consolidating knowledge of their skills and needs.
"Minalogic is a key player for digital excellence and innovation in France's Auvergne-Rhône-Alpes region, serving French economic competitiveness. The Minalogic cluster and the regional digital ecosystem are equipped to meet France's strategic challenges of national sovereignty and reindustrialization. In this context, mastering electronic components as well as secure and sovereign technologies – such as artificial intelligence, cybersecurity and industry 4.0 – is crucial. Minalogic supports and animates these key topics within its ecosystem.", says Erasmia Dupenloup.
"Since its very beginnings in 2005, Minalogic has been a real pioneer, and has anticipated the French government's ambitions, in terms of support for project and product development, and expansion at the European and international levels. I am committed to perpetuating this pioneering spirit, with strong priorities in sight, such as supporting the digital transformation of industry and continuing to promote the international development of our innovative companies."