French government certifies Minalogic for phase 5 of competitiveness cluster plan
03/04/2023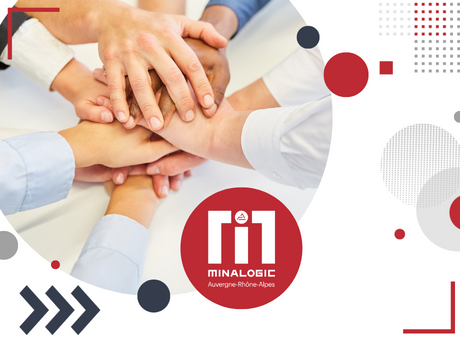 Minalogic, a competitiveness cluster in the Auvergne-Rhône-Alpes region specializing in digital transformation, is proud to announce that it has been certified by the French government for phase 5 of the national competitiveness cluster plan (2023–2026). The cluster has an extraordinary record and for the new phase has announced ambitious goals in the areas of reshoring manufacturing, securing supply chains, and sustainable development.
A vibrant hub since 2005
Minalogic now has a community of over 500 members across the Auvergne-Rhône-Alpes region, including 440 businesses from along the entire digital value chain, 20 research and educational institutions that house over 150 laboratories, as well as cities and private investors.
Thanks to its unmatched knowledge of the local innovation ecosystem, Minalogic acts as a catalyst for novel digital projects. In fact, since it was founded, Minalogic has helped 885 R&D projects earn certification and receive €1.14 billion in public grants, representing over €2.7 billion in R&D investments. With more than 20,000 active contacts, Minalogic has been able to make nearly 3,000 business matches and 11,200 B2B meetings.
Each year, the association organizes numerous events to bring its members together and encourage collaboration between industry and research. In 2022, Minalogic welcomed more than 2,000 attendees to 58 events and 9 national and international expos. Some events were well established, such as the international Minalogic Business Meetings for digital technology and its applications. The ninth edition will be held March 30. Others included Open Innovation Days, an event created by Minalogic to spur business and tech partnerships between small and large businesses, and special topics days where members of industry and academia met to discuss a specific, pressing subject.
European and international outlooks
Minalogic has a variety of programs to help startups and small businesses expand, both in Europe and further abroad:
In 2012, Minalogic developed its International Development Plan with funding from the Auvergne-Rhône-Alpes region. Using strength in numbers, the program allows local members to attend major industry trade fairs (such as the Consumer Electronics Show, Electronica, and GITEX) and travel to explore other hubs. In 2022, Minalogic offered such support to 83 companies.
Minalogic is also highly active across Europe. Since 2012, the center has partnered with 20 European projects to obtain funding for its members' projects and increase recognition of the cluster and the reputation of its members as major players in European tech.
In June 2022, Minalogic took another leap forward when MinaSmart, its European Digital Innovation Hub, was selected by the European Commission. MinaSmart helps small and medium-sized traditional businesses in the Auvergne-Rhône-Alpes region make the digital transition.
Phase 5: a look toward 2026
Minalogic is moving into a new era, one that endeavors to use deep tech technologies to reindustrialize France in a resilient, environmentally sustainable, and people-centric way—an echo of the France 2030 objectives and the Auvergne-Rhône-Alpes innovation strategy, two guiding lights for Minalogic.
Phase 5 is built on 3 pillars:
Digitalization: Providing education on disruptive technologies to improve competitiveness and cybersecurity in the local economy.
Reshoring technology and industry: Affirming Minalogic's key role in the secure domestic manufacture of the electronic components and technologies vital to the industry of tomorrow.
Reducing carbon emissions: Using digital technology to create smarter, greener, more efficient industry.
"Minalogic is proud to see its certification renewed for phase 5 of the competitiveness cluster plan. It is a recognition of the work we have been doing since 2005 to act as a hub in the digital sphere in the Auvergne-Rhône-Alpes region, support members in their projects, and help grow France's economy," said Serge Veyres, President of Minalogic. "Since its inception, time and again Minalogic has achieved the mission bestowed upon it by the French government as a competitiveness cluster, by incubating ideas and bringing them to market, both in Europe and beyond." He continued, "I am confident in the ability of Minalogic and its members to face our next challenge: to secure the national supply chain and economy and use digital technologies to help save the planet."
About Minalogic
Founded in 2005, the Minalogic Auvergne-Rhône-Alpes innovation cluster is the driving force behind digital transformation, serving the strategic challenges of reindustrialization, national sovereignty, and sustainable development.
With offices in Grenoble, Lyon, and Saint-Etienne, Minalogic drives an ecosystem of more than 500 members that includes more than 440 innovative companies from across the region that cover the entire digital technology value chain. Minalogic's members also include universities, research organizations, local government, banks and investors to sustain a unique network dedicated to innovation in digital technologies.
Minalogic helps all of its stakeholders make business connections through targeted, qualified introductions and create opportunities to innovate and grow at the national, European, and international levels.
Drawing on the recognized expertise of its team, Minalogic's services are based on three complementary missions:
animating a regional innovation network on an international level,
supporting innovation projects
and valorizing the technological expertise of its ecosystem.
Every year, Minalogic supports its members' innovation and business strategies through more than 1,500 networking actions. Since 2005, the cluster has certified and helped secure financing for 885 projects for a total of €1.14 billion in government funding and a total R&D investment of more than €2.7 billion.