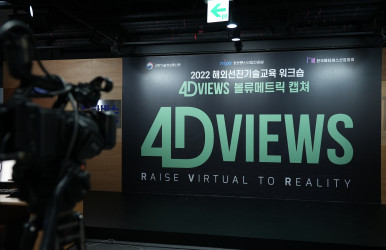 4DViews
4Dviews team in South Korea
4Dviews was honoured to represent French Tech in South Korea at two events in October 2022. There were multiple governmental organisations involved in successfully executing 4Dviews' all-inclusive trip to South Korea namely The Ministry of Science and ICT, NIPA, and BIPA. We thank them for giving us this opportunity.
The first event was a 2-day training workshop in Pangyo. Richard, Michael, and Pauline, from the 4Dviews team introduced the workflow of volumetric video to 16 audience members, who were primarily of a technical background. Audience members were taught how to Capture, Build, and Deliver volumetric video. There was a live YouTube stream set up for those wishing to join remotely, as well.
The second event was the KMF & KME exhibition in COEX, Seoul, where Richard presented the use-cases of volumetric video technology, on the first day of the conference. We also took advantage of this opportunity to announce that our future client, IOFX, is making 4Dviews' high-quality volumetric capture accessible in South Korea soon.
The South Korean Government's recent investment in this technology sector positions the country not only as forward-looking but also a serious contender in the space. We would strongly encourage French companies to explore this market, thanks to the positive experience we had.