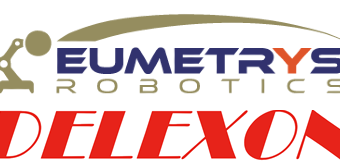 EUMETRYS & DELEXON Alliance for wafer handling robot maintenance
Obsolete wafer handling robots are troublesome to maintain and to solve your problems, EUMETRYS ROBOTICS is now in partnership with DELEXON. Thanks to this alliance you benefit from the best robotic maintenance service on the market.
DELEXON is the first-ever Taiwanese semiconductor repairing company, and has been spe-cialized for more than 20 years in robot, Pre-aligner, Load Port, SMIF Indexer and their con-troller maintenance solutions.
DELEXON is actively cooperating with TSMC, Global Foundries, UMC, Micron and more.
We provide you services for large range of brands: Brooks/PRI, ASYST, Genmark, Yaskawa, Rorze, Sankyo.
We support labor for troubleshooting, disassembly, and assembly of the robots on your site.
We provide high quality repairs, excellence of services, instant reactivity to your problems, and fast adaption to all situations, we are your best partner to achieve successes that you can immediately benefit.
QUALITY - INTEGRITY – REACTIVITY
Let's give your robots a second life!