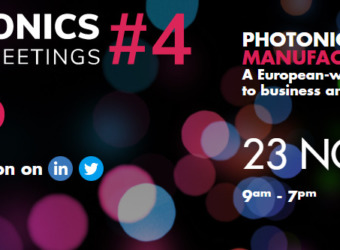 Proximum: Watch the Photonics Online Meetings webinars for free!
The fourth edition of the "Photonics Online Meetings" is an opportunity for contractors to find technology suppliers capable of meeting their technological challenges, to discover, among other things, the new trends in photonics and to provide solutions to future challenges.​
Watch the Photonics Online Meetings WEBINARS FOR FREE!
Here is the preliminary programme of conferences and webinars on November 23:
9h30 : Added value offers for macro lasers applications by Air Liquide
10h : Surface engineering: from chemistry to femtosecond laser by HEF Groupe
11h : Packaging partner for Microelectronics and Optoelectronics by Argotech – Photonics & Microelectronics packaging
11h30 : Surface structuration & functionalization by laser : principle & opportunities by Club Laser et Procédés
14h : Advancing industries with new generation femtosecond lasers by Litilit
14h30 : Compact laser sources for LiDAR : diodes & fiber lasers by LUMIBIRD : the specialist in laser technologies
Discover the full programme below!