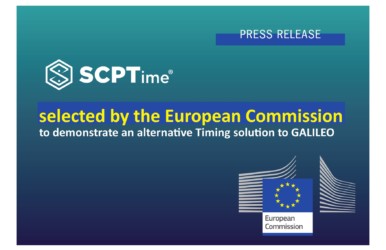 Gorgy Time
SCPTime selected by the European Commission
After winning the funding competition "Innovation in Time Dissemination and Application" launched recently in the UK as part of NTC (National Timing Center project, led by the National Physical Laboratory (NPL) to provide secure, traceable time dissemination for the UK critical national infrastructures), SCPTime is taking a major step forward in the recognition of its technology by the European Community.
SCPTime has come from a French collaborative project carried out by a consortium of leading research institutes, industries, and end-users, aiming to address the challenges of sovereignty and cybersecurity of Time, related to overreliance on GNSS (Global Navigation Satellite Systems) subject to various vulnerabilities and threats.
At the beginning of 2021, the European Commission launched a call for tenders "Alternative Position, Navigation and Timing (PNT) Services DEFIS / 2020 / OP / 0007" aimed at quickly selecting and implementing one or more demonstrators to find an alternative or complementary solution to Galileo. The subject of this call for tenders is to analyse the technologies, which could deliver positioning, and/or timing information, independently from GNSS, to be effective backup in the event of GNSS disruption, and if possible, to be able to provide PNT in the environments where GNSS cannot be delivered.
As part of this call for tenders, SCPTime, the expert in the legal time broadcasting service (UTC), has been selected by the European Commission to propose an alternative or complementary solution to Galileo for Timing services. As a TaaS (Time as a Service) Provider, the mission of SCPTime is to implement an infrastructure and a service to make the country's legal time available to the largest number of users in a Secure, Certified, Precise and Traceable way from the source to end user. The vision of SCPTime is international since it responds to a universal societal problem: a resilient trusted Time is crucial for many aspects of the digital economy, such as digital transformation, telecommunications, industry 4.0…