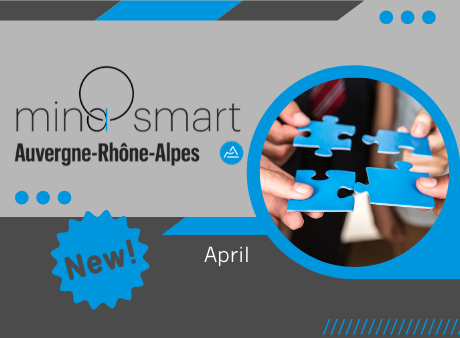 Contact

PUBLICATION DATE
24/04/2020
The arrival of two new partners and the development of six pillars to structure the service lineup
Stay up to the minute on the latest developments from MinaSmart, the European Digital Innovation Hub for the Auvergne-Rhône-Alpes region, with a monthly update from MinaSmart Director Pierre-Damien Berger.
April was a busy month, with the arrival of two new partners
and the development of six pillars to structure the service lineup
« The MinaSmart EDIH is a collaborative undertaking led by a core team of clusters (Axelera, Cara, Tenerrdis, Vegepolys Valley). The goal is to address digital innovation from a unique perspective that is both technology- and application-driven. We are thrilled to welcome two new members into the fold this month: Terralia-Pass and Digital League will broaden our scope with new tech and market expertise and help us add relevant services to our lineup »
A service lineup designed to respond to a wide range of needs
The partners have been working primarily on inventorying existing services that align with the six foundational pillars recently developed:
Development and strategy
Community building
R&D
Growth
Funding
Know-how
« The next step for us will be to develop new services that will round out those already available so that we can assist as many companies as possible as they bring digital technologies into their products, services, and manufacturing processes. »
Opportunities to participate in multi-partner EU projects
« We will also determine where we need to be focusing our efforts to ensure that we can work effectively at the European level. This means identifying relevant know-how available in other regions across Europe and finding opportunities to work with other industrial companies, other research organizations, and other ecosystems. This is what we are going to do so that we can deliver new services that cover all opportunities at the EU level »
To facilitate this kind of communication, we will have to build interregional bridges. Specifically, we will do this by
Sharing services
Trading best practices
Setting up physical or virtual market and tech fact-finding visits
Discovering living labs where new solutions can be tested
Developing and offering training together
…
There is much work to be done and we are starting from the ground up!
Our sole objective is to help our traditional companies that want to initiate their digital transformation to do so and help tech companies that want to pursue new innovations to stay or become leaders on a given market.
To date, a consortium of clusters has joined Minalogic in the MinaSmart EDIH. They are all key digital technology stakeholders in the region and will bring diverse perspectives to the EDIH
AXELERA is a cluster for chemistry and the environment, with stakeholders united around five strategic focus areas: renewable raw materials, eco-efficient factories, chemicals and materials for manufacturing industries, waste and by-product recycling and recyclability, and the preservation and restoration of natural resources (water, air, soil).
CARA specializes in urban mobility, with members and know-how spanning the entire value chain and covering everything from passenger and freight transportation to developing the vehicles of the future. The cluster fulfills two roles. The first is to support the transformation of urban transportation systems; the second is to represent and coordinate the automotive and industrial vehicle industries in the Auvergne-Rhône-Alpes region.
TENERRDIS is the cluster for the energy transition, catalyzing innovation across the Auvergne-Rhône-Alpes region. The cluster's mission is to promote the growth of sustainable business models and the creation of long-lasting jobs in the new energy technology industry. The cluster's initiatives align with the objectives of the energy transition and mobilize all resources (industry, government, academic, and scientific).
TERRALIA-PASS focuses on plants, from farming and food manufacturing to technology, cosmetics, fragrance, and flavoring across southeastern France.
The cluster's unique positioning encompasses fruits, vegetables, olives, grapes and wine, grains and legumes, spices, aromatic plants, and more, and its "seed-to-plate" approach is fully integrated, covering farming, primary and secondary food processing, manufacturing, distribution, and consumption, as well as ingredients for food supplements, cosmetics, and the fragrance and flavoring markets.
VEGEPOLYS VALLEY, is another plant-oriented cluster with members that include businesses, research organizations, and training centers serving a variety of markets from genetics to plant-based products. The cluster drives and supports innovation in seven key areas: varietal innovation and seed and plant performance; plant health; new technologies and practices for production systems; plants for human and animal nutrition; nutrition, prevention, health, wellness, and cosmetics; agro-materials and biotransformation processes; and urban plant life.
DIGITAL LEAGUE is the Auvergne-Rhône-Alpes region's cluster for the digital technology industry. Its mission is to promote economic growth and job creation in the region. With nearly 500 members (software manufacturers, digital service providers, telecommunications and network providers, web agencies, and more) and six local offices across the entire region, Digital League brings stakeholders from the ecosystem together so that they can share best practices. The cluster brings companies of all sizes a range of services designed to support four missions: unite, grow together, promote, and transform.
Would you like to learn more about MinaSmart? Contact :
Pierre-Damien Berger | Director, MinaSmart-DIH Europe
pierre-damien.berger@minalogic.com | T : +33 (0)4 38 78 06 12 | M : +33 (0)6 84 20 86 67