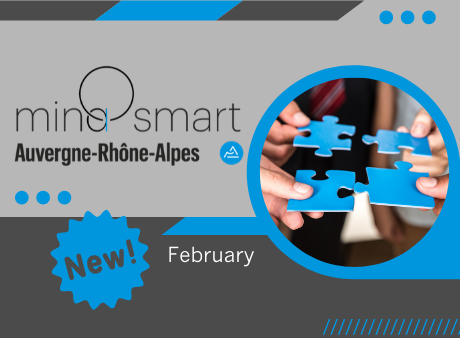 Contact

PUBLICATION DATE
03/03/2020
New digital innovation services to meet the needs of industrial companies
Stay up to the minute on the latest developments from MinaSmart, the European Digital Innovation Hub for the Auvergne-Rhône-Alpes region, with a monthly update from MinaSmart Director Pierre-Damien Berger.
February was an active month marked by joint program development work
with clusters representing our target markets
Finding common ground between business needs, digital solutions, and civic engagement
« We inventoried the services offered in five areas (strategy, R&D, growth, financing, and HR) by the stakeholders in our ecosystem (list still growing) as a prerequisite to developing a lineup of new services to respond to the needs expressed by industrial companies. » We identified transversal needs that reconcile business objectives and digital solutions with civic engagement.
The EDIH has to be able to offer businesses a range of services capable of responding to three objectives
Understanding the need need and determining the business or market function it will fulfill
Determining what role digital technology can play and developing the technology brick or bricks from a system-level perspective
Using sustainable approaches to designing the product/instrumentation/service in line with European "Green Deal" growth strategies
The joint program development work underway entails identifying those stakeholders capable of contributing eco-design know-how to effectively assist companies that would like to initiate or pursue digital transformation.
Like cybersecurity and other technology bricks, eco-design is not an afterthought once a system has been developed. It must be addressed from the very early stages of the design process and, therefore, must be integrated into the initial system specifications.
Surveying industrial companies to effectively assess their needs for new services
« If we want to effectively meet the needs of the industrial ecosystem and offer services that respond to those needs, we must work with industrial companies, and give them opportunities to challenge us, orient us in new directions, and even recommend new services to us. »
Would you like to learn more about MinaSmart? Contact :
Pierre-Damien Berger | Director, MinaSmart-DIH Europe
pierre-damien.berger@minalogic.com | T : +33 4 38 78 06 12 | M : +33 6 84 20 86 67