MinaSmart: network-building at the regional, national, and European levels
08/06/2020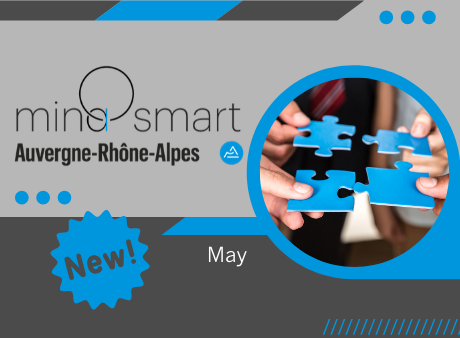 The construction of a future EDIH network is well underway. MinaSmart is bringing together stakeholders from across the ecosystem and working side-by-side with the regions
Stay up to the minute on the latest developments from MinaSmart, the European Digital Innovation Hub for the Auvergne-Rhône-Alpes region, with a monthly update from MinaSmart Director Pierre-Damien Berger.
May's highlight was the strategy planning work that took place to ensure
that MinaSmart aligns with national and European rules for EDIHs
MinaSmart in the spotlight at EDIH webinar organized by the Horizon 2020 NCP
The webinar was held on April 30, 2020 to provide an update on the European Digital Innovation Hubs (EDIH) call for proposals and to explain the basic process that will be used in France to select a shortlist of national EDIHs.
Minalogic's Pierre-Damien Berger presented MinaSmart, touching on how it currently works, why it is important to the ecosystems, and the rationale behind submitting an EDIH proposal. MinaSmart has demonstrated its capacity to get stakeholders from across the ecosystem on board to support SMEs and, more broadly, industrial companies in the region. It has also effectively established a local, regional, national, and European presence.
We were able to highlight our strengths in different areas:
Technological excellence
A broad, diverse range of services for businesses in the Auvergne-Rhône-Alpes region
Stakeholders in the digital technology space and in the markets that use these technologies
Partnerships at the European level
EDIH call for proposals to take place in two phases
The national phase
"The rules for the national process will be known shortly. Currently, a streamlined process is highly likely, with a deadline that is expected to be around September 2020. We now know that we will need to position MinaSmart on several key points."
Focus on consolidating the programs and initiatives the different stakeholders are already running at the regional level
Work with the regional governments that will be approving the proposals
Partner with other European hubs
Determine a positioning with regard to the French national Factory of the Future booster program.
- No EDIH with a FoF focus if there is a national FoF booster in the same region
- However, it is possible to submit proposals for both if the programs do not overlap.
The European phase
The European phase of the process is currently tentative.
For instance, the services to be provided are still being determined and issues like the links between technologies and markets, governance, and national and European EDIH networks are being looked at. The project is fascinating and the objective of creating an even stronger local and global economy is motivating!"
Would you like to learn more about MinaSmart? Contact :
Pierre-Damien Berger | Director, MinaSmart-DIH Europe
pierre-damien.berger@minalogic.com | T : +33 (0)4 38 78 06 12 | M : +33 (0)6 84 20 86 67

Want to know more? Contact: