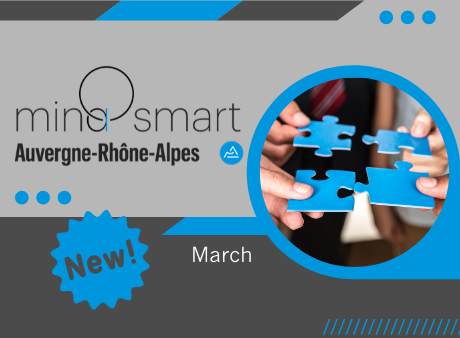 Contact

PUBLICATION DATE
30/03/2020
A development strategy that simultaneously focuses on the region and Europe
Stay up to the minute on the latest developments from MinaSmart, the European Digital Innovation Hub for the Auvergne-Rhône-Alpes region, with a monthly update from MinaSmart Director Pierre-Damien Berger.
The month of March was marked by
the development of a number of relevant new services
The MinaSmart EDIH is setting its sights on the region and Europe
« We have been in talks with the clusters and other innovation and tech transfer stakeholders in the region for the past several months. We are pleased to welcome Digital League and Terralia to MinaSmart to further expand our know-how and market scope. We will be working with both of them to come up with relevant services.»
« At the same time, we are leveraging our long-standing relationships with the Alliance IoT Initiative and, of course, the Silicon Europe Alliance»
As part of a Silicon Europe Alliance initiative, cluster SCS met with stakeholders in Sophia Antipolis in early March. The idea was to work together to structure the EDIH network across Europe. A number of organizations spearheading EDIHs either attended or dialed in to the meeting:
Move2Digital (cluster SCS in the south of France)
Smart Systems Hub (Silicon Saxony, Germany)
DSP Valley (Benelux)
Digital Innovation Hub Piemonte (MESAP, Italy)
Basque Digital Innovation Hub (GAIA, Spain)
MinaSmart (Minalogic, Auvergne-Rhône-Alpes region, France)
« The participants, all European digital technology leaders, came together to share their perspectives, insights, and best practices. The idea was to find commonalities and complementarities. We are poised to develop a range of services for the SMEs in our ecosystems and explore how we can best engineer interregional European projects together. »
The objective is still clear: to uplevel our companies' (both traditional and tech) integration of digital technology.
Would you like to learn more about MinaSmart? Contact :
Pierre-Damien Berger | Director, MinaSmart-DIH Europe
pierre-damien.berger@minalogic.com | T : +33 (0)4 38 78 06 12 | M : +33 (0)6 84 20 86 67