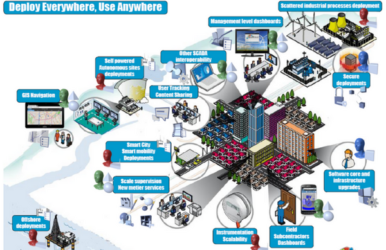 Atos Worldgrid
Atos cloud industrial supervision
Product
Atos cloud industrial supervision is a private-cloud-based industrial supervision solution that enables plug-and-play implementation of the hardware and software needed for industrial supervision applications. The solution's intelligent mesh networking and cloud-based architecture give end users full remote access to data and software updates; no in-house IT resources are required. The solution is particularly appropriate for physically-dispersed processes (oil fields, wind farms, cogeneration plants, etc.) where maintenance and scaling are critical. This multi-platform solution gives users a familiar PC, tablet, and smartphone experience. The solution's main innovation lies in the secure, remote, dynamic distribution of processing units as close to the industrial process as possible and, worth noting, on embedded hardware systems. Atos cloud industrial supervision differs from the SCADA products on the market in that it offers flexible configuration (graphics-driven programming), can be used in harsh or difficult-to-access situations (e.g. in extreme temperatures), and offers the multi-business-unit capabilities required by deregulated markets. The solution comes with a native geographic navigation system and a collaborative workflow. It is intended for all applications using smart processes and networks, from smart cities, multi-energy smart grids, and smart buildings to water, oil, and gas. It can also be used for distributed simulation.
L'histoire du produit
Atos cloud industrial supervision was developed to address the needs of new supervision markets not met by existing SCADA solutions. Increasingly, the field of energy--and, in particular, smart grids--requires supervision systems with multi-operator, multi-business-unit capabilities to cope with the aftermath of deregulation. And, for smart grids to work, data must be processed and analyzed as close to the process as possible, on embedded systems. Atos cloud industrial supervision is a break from traditional SCADAs, which generally have centralized architectures operated by a single business unit. As smart grids are rolled out, the integration of renewable energy sources and increasingly difficult access to fossil-based-energy will create additional remote-configuration needs. This solution leverages the results of the iDeviceCloud R&D project, in the form of a supervision software solution that is compatible with a broad range of Linux-based hardware used in the field. It is particularly compatible with the Atos cloud industrial supervision (developed by AIM under the same R&D project). And integration with ATIM radio products and its wireless cloud (Sigfox) versions has also been tested successfully. The resulting system, developed by stakeholders in Grenoble's innovation ecosystem, can address all aspects of distributed process supervision (for smart grids, smart cities, and smart mobility), from sensors to the information system and its mobile versions.
Investissement
R&D: 2 million euros; consolidation of the commercialization budget is in progress
Emplois créés
2 jobs (early commercialization phase)
Brevets déposés
IP issues being examined; French software protection program (APP) feasibility study in progress
Délai de mise sur le marché
4 years
Atos Origin is an international information technology services company. Its business is turning client vision into results through the application of hi-tech transactional services, consulting, systems integration and managed operations. Atos Origin is the Worldwide Information Technology Partner for the Olympic Games and has a client base of international blue-chip companies across all sectors.