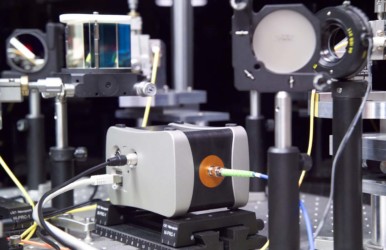 Merck
Zoom & Micro Spectra
Product
The ZOOM Spectra and Micro Spectra are compact high resolution optical spectrometers designed for laser characterization markets. They are used to characterize lasers (ECDL, VECSEL, DFB, ND-Yag, etc.) for both manufacturers who wish to integrate them into their products and end users. These spectrometers are based on SWIFTS, a disruptive technology built around the combination of microelectronics, integrated optics, nanotechnology, and software engineering. As a result, the products combine high resolutions and precision measurements with a compact, robust design. To avoid any risk of accidental alteration to the spectrometer settings and capacities, all mobile parts were removed from the design. Thanks to the products' calibration process, users no longer need to recalibrate their products after factory calibration. ZOOM Spectra and MICRO Spectra products are currently sold throughout Europe (Germany, France, etc.), Asia (China, Japan), and the United States. Over the past two years, the ZOOM Spectra product has earned several innovation and quality awards at trade shows in France, the United States, and Europe.
L'histoire du produit
These products were developed as a result of the SWIFTS 400-1000 R&D project backed by the French Single Interministerial Fund (2008,2011; 7 partners; 4.5 million euros) and led to the creation of the company Resolution Spectra Systems. This project gave three companies (Teem Photonics, Floralis, and e2v) and four academic research laboratories (IPAG, IMEP-LAHC, LTM, and UTT) the opportunity to transform a Grenoble academic invention into a marketable product. Since its creation, Resolution Spectra Systems has continued to transfer the developments born of the SWIFTS 400-1000 project to industry and has begun marketing these new products on the laser characterization market. Another Minalogic project was launched in 2013 to develop new products based on SWIFTS technology. The ANAgRAM project, led by Resolution Spectra Systems, is developing high performance and integrated Raman analyzer solutions that meet demands for nondestructive testing (NDT) in industrial processes, microbiology analyses, on-site environmental testing, and anti-counterfeiting programs. Partners: Resolution Spectra Systems, Pyxalis, Teem Photonics, ATT, CEA-Leti, IPAG, IMEP-LAHC, LEPMI, and LTM.
Brevets déposés
2 global patent families
Délai de mise sur le marché
4 years
La société : Merck
Merck is a leading science and technology company in healthcare, life science and performance materials. Our comprehensive life science portfolio supports biologics manufacturers during all stages of drug production. We offer a broad range of products and services designed to meet the diverse needs of different applications including single-use manufacturing, filtration, chromatography, raw materials, engineering and validation services.