The future of the European semiconductor industry was the subject of the Semiconductor Rendez-Vous
20/10/2022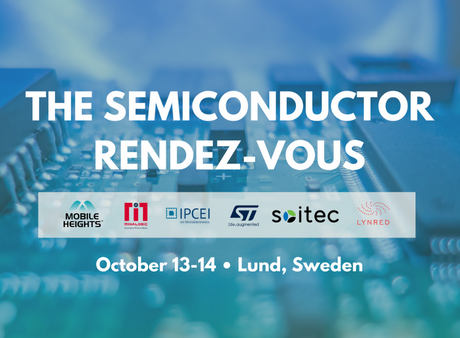 Around twenty speakers gathered for the Semiconductor Rendez-vous on October 13th and 14th to talk about smart and sustainable future technologies in microelectronics.
Three major European leaders in microelectronics - STMicroelectronics, Soitec, and Lynred – as well as Lund University and two Swedish companies, Acconeer and NordAmps, were represented.
The event, designed to disseminate the benefits and results generated through the first IPCEI on Microelectronics, was hosted by Minalogic and Mobile Heights in Lund (Sweden). Among the hundred attendees, more than twenty students came to listen to the conference and discover how fun a career in microelectronics can be!
Electronics are in everything, everywhere, and address many markets: aerospace, defense, science, security & safety, smart building & city, automotive, healthcare, industry, leisure, communication, etc. The issues are very hot topics: digital transformation, energy transition, reliability, sustainability.
Probably, everything in the future will be more compact, more efficient, more connected, smarter, but also safer and greener. Indeed, beyond the technological achievements, the goal is to act for a greener world, and this is to be implemented at the material, technology, and design levels.
Strategic issues were also discussed. The covid crises taught us a lesson: we must work for the sovereignty of Europe to avoid the lack of the components we need to make our own products.
For all these challenges, we have to all work together. Lund and Grenoble ecosystems have world-class knowledge in micro and nanotechnologies. We already know each other and operate common projects within the @Silicon Europe Alliance. The Semiconductor Rendez-vous was not only a tool to share knowledge but, beyond IPCEI, it is a means to better connect our ecosystems and go further together. Minalogic and Mobile Heights are here to help you connect the dots 😉
Want to read more about this event?
See you now on WAM, the digital platform
dedicated to Minalogic members.
Do you have a WAM account?
Click here to read the full article.
Don't have a WAM account yet?
Request your access to Damien Cohen: damien.cohen@minalogic.com

Not a member of Minalogic?
Do not hesitate to contact the cluster team to join the Minalogic cluster
and benefit from the dynamics of the network!