Interview Christophe Perron, CEO, Stimergy
12/11/2015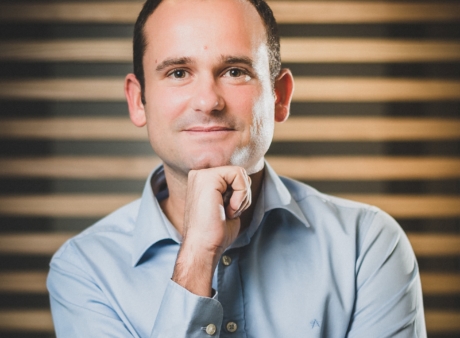 Christophe PERRON, CEO , STIMERGY
Christophe, can you tell us a bit about Stimergy ?
CP : "Stimergy is an innovative startup that provides an environmentally-responsible alternative to today's data centers and server rooms. Our system recovers heat from servers and uses it to provide hot water within the same building, reducing the hot water bill by up to 65%. The heat can be used for swimming pools, factories, and apartment buildings, for example. Our system also eliminates the need for traditional air conditioning in server rooms, reducing server room electricity costs by 25% to 50%. Finally, our system requires minimal CapEx and provides an opportunity to create synergies between smart city stakeholders, generate additional revenue, contribute to more energy-efficient cities, and create ecosystems in which technologies are better integrated. We equipped a server room at Université Jean Moulin in Lyon. Nine months after rollout, the university is very pleased with the system's performance. We are building on this successful project to commercialize our turnkey environmentally-responsible server rooms, a solution that will appeal to stakeholders seeking to shape tomorrow's smart cities, campuses, and factories. We are also working with partners in digital technology and energy to develop an all-in-one application and data hosting solution that is environmentally-responsible, offers high uptime, and is cost-competitive."
What convinced you to join Minalogic ?
CP : "Minalogic's network was by far the main factor. We were also swayed by the opportunity to participate in collaborative R&D projects. And Minalogic's services are also very attractive. We attended some of the cluster's training sessions even before becoming a member. We are now taking advantage of Minalogic's support securing financing."
Speaking of services, which ones have you used since you joined ?
CP : "Minalogic has introduced us to representatives of some major corporations, helping us generate sales leads and set up partnerships with local industrial stakeholders through the Small Business Act. Another Minalogic program for small businesses, Easytech, also would have been a good fit for Stimergy to help fund our R&D."
And what kinds of partnerships are you looking for at Minalogic? Business? Innovation?
CP : "We are currently focusing on business partnerships that will position us to help digital-industry stakeholders create reliable, cost-competitive, environmentally-responsible services that more closely align with user needs."