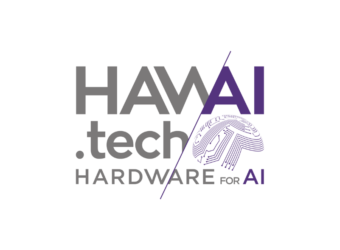 About
HawAI.tech (Hardware for AI) aims to design hardware accelerators that provide an explainable, accountable and transparent artificial intelligence (AI).
The next generation of AI models will be based on probabilistic models as former Intel CTO Mike Mayberry said: "The third wave of AI [...] will be around probabilistic computing". These models meet our needs by combining the strengths of expert systems and neural networks, namely reasoning and learning. Furthermore, they enable a frugal AI as they require much less data for training. This type of AI meets the requirements of many industry sectors (defense, health, transportation, finance) seeking to justify the decisions made by their AI systems.
Nevertheless, the hardware available today does not allow an efficient execution of probabilistic models. This mismatch between the probabilistic nature of the models and the existing hardware on the market makes their use unsuitable in terms of cost and performance. Thus, based on more than 15 years of research conducted at the CNRS and INRIA, HawAI.tech is a startup that develops computing architectures that make the use of probabilistic models possible and competitive compared to the existing hardware. Eventually, our hardware accelerators will be installed in all types of systems, such as GPUs (graphic cards) or neural accelerators, from data centers to intelligent sensors via autonomous vehicles.
Adress
CIME Nanotech
3 Parvis Louis Néel
38016 GRENOBLE CEDEX 1
Themes
Micro/nano/electronic, Software
Contact
SIMATIC Jean
Directeur technique
Minalogic member since
09/07/2019
Markets
Aerospace & Defense, Finance & Insurance, Healthcare, Industry 4.0, Media & Entertainment