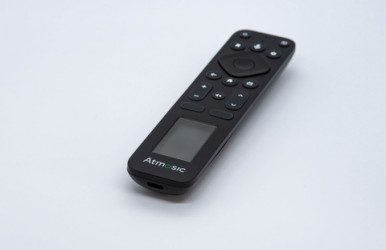 DRACULA Technologies
Atmosic Technologies and Dracula Technologies Battery Free Remote Control Reference Design is Ushering in a New Generation of Low Maintenance IoT Devices
Reference design combines the ultra-low power Atmosic ATM33 SoC with Dracula's organic photovoltaic technology to bring energy harvesting capabilities to a wide variety of IoT devices
Today Atmosic Technologies, an innovator in energy harvesting wireless platforms for the Internet of Things (IoT), and Dracula Technologies, a pioneer in harvesting energy through indoor light, today announced they have collaborated on an advanced remote control reference design. The reference design uses Atmosic's ATM33 ultra-low-power system-on-chip (SoC) and Dracula's innovative LAYER® platform and includes a real-world example showing how easy it is for companies to test and develop IoT products. With this reference design, companies can design connected devices ranging from beacons to remote controls and industrial sensors, all powered by energy-harvesting technology to provide sustainable solutions that eliminate the need for batteries.
Dracula's LAYER technology is an organic photovoltaic (OPV) solution that generates energy from light to charge low-power indoor (LPI) devices, even in low-light conditions down to 50 LUX. Using inkjet printing, Dracula creates thin, flexible organic PV modules that can be customized to different shapes and sizes. When used together with Atmosic's ATM33 ultra-low power SoC, Dracula was able to reduce the size of its organic PV module while still meeting the performance requirements set by remote control manufacturers. The new design also brings substantial cost savings, enables far slimmer designs, and makes it possible for IoT devices to harvest sufficient energy from indoor lighting such that they do not require any batteries to operate.
In other more demanding IoT applications where developers still require a 'top-up' battery during peak activity, the ATM33 has the built-in capability to charge a battery using excess harvested power.
"Atmosic's ATM33 wireless solution has the lowest power consumption on the market, allowing Dracula's customers to design sleek IoT and environmentally friendly IoT devices that are powered solely by energy harvesting technology," said Mike Fortin, SVP Sales Atmosic. "Our remote-control reference design will help accelerate the adoption of energy harvesting as a cost-efficient and sustainable alternative to battery-powered devices."
To further reduce operational power use in IoT applications, the ATM33 also can leverage unique power-saving features including Atmosic's Sensor Hub technology.
SensorHub enables sensor data to be collected and stored directly in memory while most of the SoC, including the MCU, remains asleep. The feature will trigger actions when pre-configured sensor limits are exceeded; such actions may include the wakeup of the MCU if further data processing is needed or the direct transmission of payloads directly to pre-assigned destinations without the MCU waking.
"We are very pleased to work with Atmosic, combining our technologies to bring low-power electronics to the next level, and to show how energy harvesting can create green and eco-friendly products for mass markets such as TV remote controls. We are working together to get the right balance between energy creation and energy consumption for cost, design, and sustainability reasons, and are proud to be driving with Atmosic the IoT industry towards a battery-free future," said Jerome Vernet, VP Sales, Dracula Technologies.
While PV modules were traditionally rigid glass panels, today companies like Dracula are driving a new generation of energy harvesting with non-fragile, lightweight, and flexible PV modules that can be customized for a wide variety of consumer, enterprise, and industrial IoT products. With Atmosic and Dracula's reference design, companies can create cost-efficient, aesthetically pleasing devices that only require harvested energy to operate. In addition to the environmental benefits of battery-free designs, end-users can save on the maintenance time and costs required to replace batteries. Furthermore, Dracula's organic PV modules do not use any rare earth or heavy metals, offering a truly sustainable solution for the IoT.