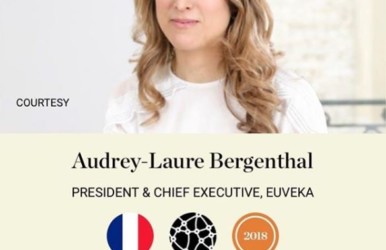 EUVEKA
EUVEKA : Audrey-Laure Bergenthal is one of the 500 people shaping the Global Fashion Industry ! #BoF
A specialist in industrial property law, Audrey-Laure Bergenthal dropped out of a master's degree at Harvard before turning to fashion. She saw an opportunity in sizing and sampling within the industry, and in 2010 set up Euveka, a company specialising in robotic technologies.
Bergenthal says she was inspired by her mother, who could never find dresses that fit. To understand if there was a market gap, she studied fashion design and interned for Lanvin's subcontractors Lefranc Ferrant and at e-commerce site Zapa. Eventually, she launched Euveka in 2010.
The company specialises in robotic technologies and aims to satisfy the demands of the textile industry. Its star product is a mannequin that is driven by a design software and can adapt measurements on demand, changing from a size 36 to 46 and morphing into the desired shape in under two minutes. Once the garment's prototype is created, the mannequin is able to discover any defects, working as a quality control tool.
The project is supported by LVMH through the Station F start-up campus in Paris. In 2017 Euveka won the ANDAM Innovation Prize.