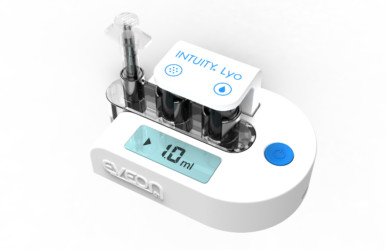 Eveon
EVEON rewarded for its medical device Intuity® Lyo1
EVEON, designer and manufacturer of intelligent medical devices for the preparation and administration of complex drugs, was presented with a Pharmapack Europe Award for its device Intuity® Lyo1
with the special distinction "Convenience and Easy of use".
The Pharmapack Europe trade show gathers together actors from the pharmaceutical industry worldwide in the Parc des Expositions - Porte de Versailles, in Paris.
Since they were created in 1997, the Pharmapack Awards reward exhibitor innovations in particular. In 2016, 380 companies took part in the trade show and 21 innovations were presented at the Innovation Gallery.
Intuity® Lyo1 : a new generation of medical device that prepares medication simply, automatically and safely