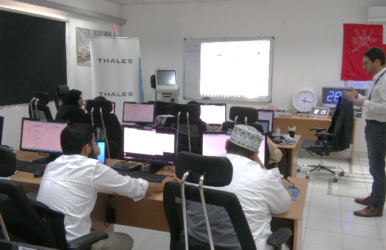 Gorgy Time
GORGY TIMING trains OAMC, NCR and Thales teams in Oman
As an expert in time and frequency, GORGY TIMING provides the whole synchronization system of Muscat and Salalah airports. This central hub of the Middle East has chosen our high efficiency NTP time servers. All technical equipment of the airport, such as radars of control, FIDS, PIDS, Public Address, benefit from the exact same secured time reference.
In addition, we have installed more than a hundred analog and digital clocks in the terminals for the public to read the exact time.
The development of Muscat and Salalah airports is a major infrastructure project for the Sultanate of Oman. Air traffic rises to 12 million passengers a year.
Fabrice Guery – GORGY TIMING's Head of Research & Development – and Olga Mackiewicz – Sales Manager for Middle East – are on site to train NCR, Thalès and OAMC teams. As part of the Public Authorities Under Ministry of Civil Aviation, OAMC is in charge of operating Oman airports.
The complete system
Our Ledi Network ITS v2 time servers :
Our NTP time servers are redundant and equipped with a high efficiency internal oscillator. Their stability offers an efficient and secured synchronization in all circumstances.
Our analog and digital clocks :
All our professional clocks are remotely supervised and configured from a central access point.
The airports of Oman manage their digital and analog clocks easily thanks to our dedicated intuitive management software.
Our customized supervision: to diffuse alert messages on our digital clocks .
Alerting is essential in the event of an incident. We have thus developed alert messages for the airports to display on their GORGY TIMING digital clocks in case of an emergency such as fire.
3 key figures describing our business in the airport market :
30% of international airports are equipped by GORGY TIMING.
1 Million of synchronized devices are spread in airports all around the world.
99.9% is the service availability rate of our equipment.