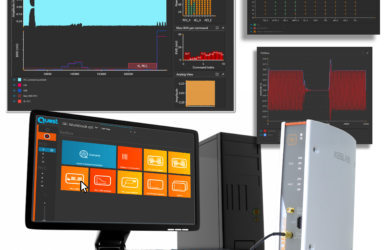 Keolabs
KEOLABS : ProxiLAB Quest Delivers Single-Click Characterization of Contactless Cards, Readers, Mobiles
28 November 2016, Cannes France – Today at Trustech 2016, KEOLABS presented ProxiLAB Quest – a fully retooled testing platform that, with its new Quest software environment delivers single-click control of advanced performance testing for 13.56 MHz contactless technologies in smart cards, readers and NFC enabled objects. With its revised architecture, ProxiLAB Quest provides capabilities that include 20 dBm Vectorial Network Analysis (VNA), Accurate Arbitrary Waveform Generation (AWG), Advanced I/Q demodulation and Pre-equalizer filtering.
ProxiLAB Quest improves ease-of-use and testing efficiency with the new Quest software environment. Quest includes a range of essential tests as preconfigured scenarios. These scenarios enable single-click access to advanced performance tests such as card EMD profiling, Shmoo generation, card/reader waveform analysis, true-waveform signal replay, resonance frequency / Q factor, and more. Quest allows access to all aspects of the characterization scenario, from the control scripts to the resulting graphical displays and traces.
Quest is provided as a free download to facilitate sharing of tests scenarios, logs, results and communication traces among users. All the information related to a work session is conveniently stored in a Quest Workbook file so that users can archive everything that's needed to understand the scenario, the context and the results.
"ProxiLAB Quest is the new foundational technology that allows us to accompany our customers as they move from exploring contactless technologies to the final validation of their new products," stated Benoit Hedou, Director of KEOLABS' Validation Platforms activity. "Our Quest software is a key channel for accompanying them. With it, we can provide them turnkey access to advanced instrumentation, so that users spend less time figuring out how to use tools and more time evaluating and perfecting their products," explained Benoit Hedou.
ProxiLAB Quest is the first in KEOLABS' Quest line of testing platforms. It provides signal emulation and protocol analysis of contactless 13.56 MHz smartcards (PICC), readers (PCD) and other devices implementing a range of standards including:
ISO/IEC 14443 (A/B/B'), Mifare™
VHBR (ASK, PSK up to 27 Mbs)
ISO/IEC 15693, ISO/IEC 18000-3
Felica™ (JISX 6319)
NFC -IP1, -IP2 (ISO/IEC 18092, ECMA 340)
ProxiLAB Quest also integrates into KEOLABS' validation solutions to verify smart card, reader and mobile phone conformance with application standards that include:
EMVCo
ICAO / ISO/IEC 18745-2
NFC Forum
ISO/IEC 10373-6
CEN TS 16794
ProxiLAB Quest will be available to end-customers for their design characterization and testing in December 2016.
For more information, please contact Fabien Pollet:
fabien.pollet@keolabs.com
Tel: +33 (0)6 72 18 82 58
About KEOLABS
KEOLABS is a leading provider of tools and services for testing microcontroller and secure component implementation.
KEOLABS Smart Card Validation activity provides an end-to-end product and service offer for validating and certifying smart cards and related technologies in accordance with industry standards. KEOLABS participates in all major certification processes for the secure transaction and identity sectors. The company offers a comprehensive range of solutions for validation of all layers of contact and contactless secure components from the electrical to the digital and application layers.
KEOLABS service branch includes the ISO/IEC 17025 accredited Testing Laboratory (Accreditation Cofrac n°1-2468, Testing. A list of locations and scope are available on www.cofrac.fr) offering services to all stakeholders in the secure component sector for smart cards, handsets, ePassports, electronic driver's licenses and card readers.