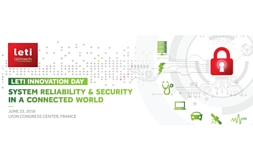 Leti
LETI INNOVATION DAY 2016
Leti is very proud to announce its annual event Leti Innovation Day, held this year in Lyon, Centre de Congrès, on June 23, 2016.

Designed for industrial CEOs & CTOs, Leti Innovation Day annually brings together technology experts, business leaders and startups founders to consider innovative technology solutions for seizing market opportunities and overcoming technological challenges.

This year's main theme is: System Reliability & Security in a Connected World, a challenge that Leti is addressing on multiple levels.
Presentations and discussions will focus on:
Enabling a connected world. Invited keynote speaker Didier Lamouche, CEO Oberthur Technologies
Assessing security and reliability. Invited keynote speaker Laurent Midrier, VP Bureau Veritas
Anticipating challenges in a connected world. Invited keynote speaker Marc Grimmé, CTO Carmat
Strengthening security with advanced technologies. Invited keynote speaker Jean-Marie Saint-Paul, Mentor Graphics
We also host two special guest speakers from Intel and STMicroelectronics as well as industrial partner speakers from Dassault Aviation, Davey Bickford, Safran-Morpho, Globalfoundries, Carmat …
The conference is free but you need to register, so, secure your place today to hear about our latest technologies for shaping the future with smart, low-power and cost-effective solutions.
More information: didier.louis@cea.fr
Program & Registration : http://www-leti.cea.fr/fr/Prochain-evenement/LETI-INNOVATION-DAY