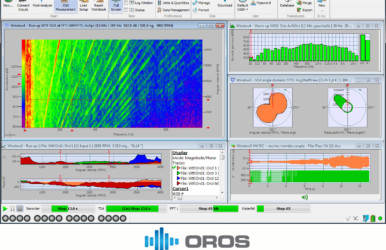 OROS
OROS : Noise and Vibration Testing Solutions – NVGate V11.00 GoToResults – Straight to the point!
OROS released NVGate V11.00, a major version of the noise and vibration software platform. Among several enhancements, NVGate V11.00 proposes a new user experience with the intuitive GoTo Results interface.
GoToResults is a simple, clear and efficient interface that dramatically reduces the setup time and clarify the ongoing measurement.
GoToResults covers the main N&V measurement applications: Impact hammering, Order tracking, NVH waterfall, etc..) in a modern environment.
Experts/analysts can prepare measurements through models that include instructions and instrument setup, final setup being completed on-site with the inputs, displays and save selection.
NVGate is the OROS Noise and Vibration software platform. It is the cornerstone for all measurement tasks. It hosts the suite of OROS software modules (rotating, structural dynamics, acoustics). Whatever the application and software module, it allows working in a coherent and continuous environment.