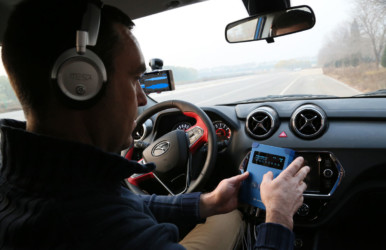 OROS
OROS: NVH solutions more and more innovative, dedicated to classic and electric vehicles (EV/HEV)
OROS makes more than 30 years of NVH experience and expertise available to its customers in the automotive industry.

There has been strong growth in NVH applications for the automotive industry in recent years. In line with this trend, OROS has developed an exclusive solution for transfer path analysis that allows the noise and vibration in the passenger compartment to be reduced.
In parallel, the company acquired market-tested software solutions for psychoacoustics, sound design and source localization. Products also have the capacity to measure sound power based on well-known acoustic pressure and intensity methods.
In addition, OROS has historically been a leader in the analysis of rotating machines, offering a technology that allows real-time order tracking, which remains precise even at high speeds. In particular, thanks to this technology, specially-designed solutions are offered for balancing of common automotive components (turbo-compressor, crankshaft, etc.) as well as for torsional vibration analysis.

Concerning structural analysis, high-performance methods are proposed to allow machining quality to be optimized, by determining the resonance frequencies of cutting tools. Obviously, this is in addition to classic modal analysis on frames and the various components produced by automotive suppliers.

Lastly, OROS very recently launched MODS "Mobile DAQ System". This is an ultraportable DAQ, paired with the NVGo mobile app: it allows very easy acquisition of noise and vibration signals in a vehicle.
Read the full interview of Guillaume Cousin, Product Manager at OROS