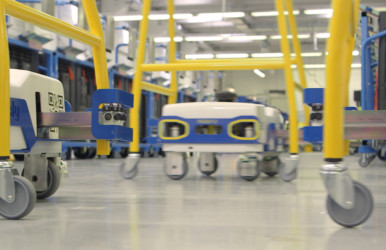 Solystic
Poste Italiane awards SOLYSTIC with two new major contracts for automation of mail sorting process.
The first award is for further deployment of SOLYSTIC XMS™2 "mixed mail" sorters. XMS™, which sorts and prepares for delivery both letter and flat mail (as large envelopes, magazines, plastic wrapped items), has been widely adopted by many european operators (the Netherlands, Belgium, Sweden, Finland, Denmark). This second version of XMS™ already in operation in Italy (Bologna and Milano), enables further "lean" optimization of mail processing from all points of view: higher automation level, ease of use, fully fatigue free operating conditions, efficiency and accuracy.

The second contract is focused on sorting of registered mail and small packages. For that purpose, SOLYSTIC will deliver its TOP2000 product, widely adopted in Europe (France, UK, Spain, etc.), Asia and US market. The TOP2000 for Poste Italiane will benefit of the same front-end of XMS™2 for loading mail directly using customer's trays, a high-speed feeder, and tray handling made by Soly™ mobile robots. Soly™ robots will be equipped with controllable integrated conveyors, realizing the transfers of the trays for upstream (feeding) and downstream process (dispatch). The high level of automation of TOP2000 ensure the best working conditions and secures the sortation of the registered value mail.
Both XMS™2 and TOP2000 will be delivered in 2019.

In these last months, we have also put into operation a trial configuration of Soly™ in Bologna. Soly™-SORT, the SOLYSTIC product based on mobile robots enables automatic parcel sorting without fixed infrastructure and definitely removing any need of weight lifting by operator.

We are really happy to contribute to the renewal, optimization and innovation of sorting assets of Poste Italiane.