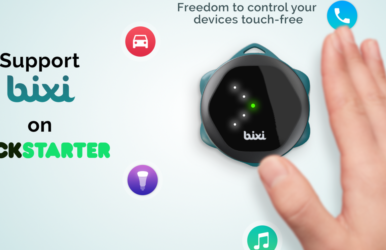 Bluemint Labs SAS
Support Bixi, now available on Kickstarter!
Bixi, the first ultra-portable contactless smart object that simplifies connected life using intuitive gesture recognition, today announced the launch of its Kickstarter campaign.
Designed by Bluemint Labs, the Grenoble startup incubated by STMicrolectronics, Bixi allows users to interact with their connected environment when their hands are occupied (e.g. cooking, driving, etc), covered with gloves (e.g. biking) or dirty (e.g. cleaning, gardening, etc).
At the heart of this innovation lies intelligent gesture recognition. Users only need to make intuitive, natural hand movements above Bixi to manage their smartphones, tablets, personal computers or other connected objects such as Philips Hue, lifx, Bose speakers or a GoPro.
Bixi works directly with many existing applications, with a great battery life lasting for 3 to 4 weeks thanks to its low-energy architecture. It will come with accessories like a bike mount, a car mount, a desk mount, and a wall mount.
The first 500 Bixi will be shipped early January 2017 through a partnership with Flextronics, one of the biggest and most renowned electronics device manufacturers in the world.
So don't miss it out and support Bixi on Kickstarter!