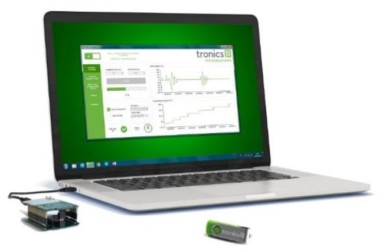 Tronics Microsystems
TRONICS' new GYPRO evaluation kit takes inertial mems testing to the next level
Tronics has released a new version of the evaluation kit for its GYPRO® standard products.
The optimization provides users and developers with improved functionalities for affordable easy and advanced testing.
Tronics, a designer and manufacturer of innovative nano and microsystems, has released an upgraded evaluation kit for its GYPRO® high performance inertial sensors. Fully compatible with the Arduino M0 open-source electronic prototyping platform, the plug-and-play system expands the testing possibilities of Tronics' GYPRO® series by facilitating communication with climatic rate tables.
To enrich system integrators' evaluation experience at both hardware and software level, Tronics has strengthened its product portfolio with an easy-to-use packaged evaluation kit for its GYPRO® inertial MEMS sensors, featuring a compact design with reliable operation at affordable price. The combination of the Arduino open-source firmware and Tronics' proprietary evaluation software constitutes a powerful programming tool giving direct access to various functionalities such as output reading and recording, recalibration, gyrocompass and digital self-tests.
Tronics will exhibit its complete portfolio of inertial products and testing methods tailored for high performance sensing applications at its booth Hall B1 - M03 during the Electronica Trade Fair on November 8- 11, 2016 in Munich, Germany.