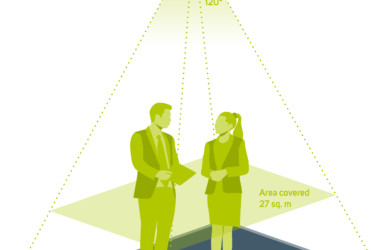 Ulis
ULIS launches ThermEye™ Building, a new product line dedicated to smart building applications
This thermal sensor line is for integrators needing detection and people counting capabilities for connected buildings
ULIS will showcase ThermEye Building at IBS, Paris, November 6 – 7, 2018, at booth #E30
ULIS, a designer and manufacturer of a wide range of innovative thermal image sensors, today announces the launch of ThermEye Building, a thermal sensor line for system integrators of detection and people counting equipment for connected buildings.
The ThermEye Building range includes two new products: ThermEye™-b90 and ThermEye™-b120. These 80×80 thermal sensors provide system integrators with advanced functionalities to detect presence (even when people are immobile) and localize and count people in order to improve capabilities in analyzing human activity and communicate with relevant smart building applications. Coupled with a 90° or 120° field of view (FOV) lens, a single ThermEye Building sensor can cover a zone of 30m2 (323 ft2), equivalent to a meeting room accommodating eight to ten people.
The product range is configured with a conventional video channel (50 images per second) and features an intermittent mode that is compatible with low-power consumption applications.