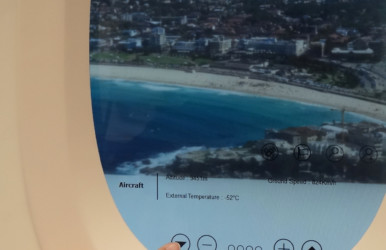 Vision Systems
VISION SYSTEMS unveils its acti-vision window for the first tim in the USA
As a world leader in solar protection systems and a competitive challenger in IFEC offering bespoke solutions to the aeronautic market, Vision Systems will present high-end motorized shades, Electronically Dimmable Windows (EDWs) and a wireless IFE system dedicated to business aviation. The exhibited products also include Vision Systems' latest innovation, Acti-Vision Window, a new concept of EDW integrating an interactive transparent display.
Vision Systems' tailor-made motorized shades for one or two windows feature smooth or pleated fabrics, single or dual screens, light weight, acoustic insulation and a fine fit and finish. These long-life products comprise advanced motorization with brake, manual unlocking and anti-jamming devices and the integrated electronics allow easy installation and maintenance. Another particularity of these solutions is the synchronization of the shades, which reach the bottom all at the same time or by zone. Moreover, they are ready for the eventual integration of a dimmable window.
Vision Systems' electronically dimmable solutions enable passengers to tune the tint of their window from clear to dark in order to regulate daylight, glare and heat entering in, while preserving the view. They enhance visual, thermal and acoustic comfort for a greater wellness atmosphere.