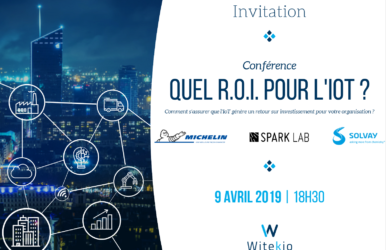 Witekio
Witekio organizes a tech conference about the return on investment IoT can generate for an organization.
Come and optimize your chances of generating a return on investment thanks to IoT!
While POC and pilot phases were key for the learning curve, how to move to the next step (production, industrialization) and generate a R.O.I. thanks to IoT?
Key decision makers from Witekio, Michelin, Solvay, SparkLab and MicroEJ will bring their answers to this crucial question during an exclusive tech conference on April 9th.
On the agenda: 4 conferences followed by a panel discussion. A great opportunity for you to share your experience with IoT, and to learn more about your peers' one.
The conference will end on a cocktail in Witekio's headquarters, which will allow further discussions and networking.
Not registered yet? https://bit.ly/2SqpqLl