Minalogic members at Mobile World Congress in Barcelona!
04/02/2019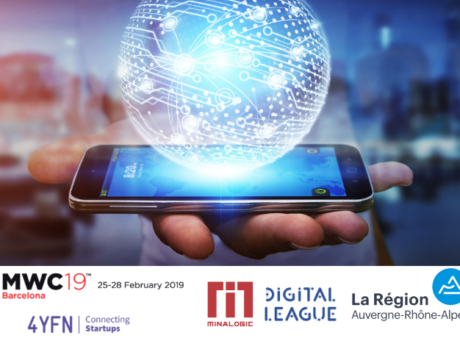 The Mobile World Congress in Barcelona boasts more than 2,300 exhibitors and brings in more than 108,000 visitors, making it the mobile industry's largest global event.
Minalogic will be out in force at the 2019 edition with a regional group exhibit booth (at the 4YFN startup platform at FIRA Montjuic) in partnership with the Digital League and the Auvergne-Rhône-Alpes regional government.
If you would like to meet with one of the companies exhibiting, get in touch with us and we'll connect you!

Discover the seven companies exhibiting at the group booth

Booth O1 at 4YFN - February 24 to 27 in Barcelona
Wegoto develops innovative solutions for the production and transmission of geographical positioning data for urban mobility applications. The company creates geolocated maps of environmentally-friendly transportation useful for pedestrians and operators of bikes and scooters. The data factors in the needs of each type of transportation as well as the specific needs of disabled travellers. The multi-mode maps produced are designed to ensure seamless integration with other types of transportation, from mass transit to cars and delivery trucks. Wegoto offers the first-ever pedestrian and bike GPS that factors in users' mobility profiles.
JYSE lets you build web apps to locate, display monitor, and verify your data, devices, and equipment without coding.

User-friendly: JYSE's solution offers unrivalled operational efficiency
Simple: No coding and a half-day of training is all you need
Flexible: JYSE can connect with all of your data sources and be rolled out anywhere (SaaS, OEM, on-premise, embedded)
Fast: Build your own web apps yourself in just a few hours
Upgradeable: Transition smoothly from prototype to production, and then upgrade your solution as your needs change
Cost-effective: Reduce development time and costs by a factor of ten

JYSE will present several use cases and will give visitors an opportunity to test the solution.
Come and create your own web app in three easy steps!

Member Directory
I-TEN is the leading solid-state lithium-ion microbattery manufacturer, supplying CMS components. The company's microbatteries can be charged in just minutes, and are not only capable of storing high energy densities, but also responding to peak draw in the hundredes of milliamperes over a wide operating temperature range.

I-TEN microbatteries are ideal for both main and backup power for electronics, SSD drives, RF and GPS modules, medical devices, smart cards and tokens, home-automation and smart-building solutions, smart-city devices, connected watches, IoT devices, and self-powering wireless-sensor networks.
Bespoon has developed an Ultra Wide Band (UWB) technology and delivers a comprehensive real-time 3D location solution (hardware, software, and server) capable of operating in the most demanding environments.
The Mirabook turns the smartphone into a laptop.

As people increasingly rely on their smartphones to organize their personal and professional lives, it is becoming evident that the traditional computer has been replaced by the smartphone as the main servant of our digital needs. Our vision is clear, Miraxess unleashes the power of your smartphone, and make it the only computer you will ever need.
Squadata specializes in data-driven marketing, bringing its customers innovative digital solutions to boost their ROI. The company offers email and SMS retargeting, customer data platforms, CRM onboarding, data monetization, and inactive account reactivation solutions.
Beasyness enables collaborative BtoB solutions to bring business managers the best possible partners.
The company's fast, easy-to-use mobile app gives managers access to partners recommended by their professional network so that they can make the best decisions.
Partners enter their information on the online platform, gaining a valuable opportunity to promote their products and services.
Go to beasyness.com and change the way you do business!

Website
Additional Minalogic members will be exhibiting in the main MWC exhibit halls, either at their own booths or in the France Pavilion.

Many other members will be at the event as visitors: : Tiempo, MyOrpheo, Ic'Alps…
Your contact at Minalogic:
Constance Motte | Director, Europe and International Development
constance.motte@minalogic.com | T : +33 (0)4 38 78 52 72 | M : +33 (0)6 37 41 65 65