Minalogic thanks its community of experts
16/05/2017
Minalogic has certified and helped secure French Single Interministerial Fund (FUI) backing for 148 projects since the cluster's inception in 2005, placing it among France's top-performing clusters.
These excellent results speak not only to the Minalogic ecosystem's capacity to drive innovation and deliver high-value support, but also to the quality of the network of experts Minalogic calls upon to provide guidance and assistance engineering the innovation projects it certifies.
Minalogic would like to highlight the critical role played by its network of experts, who provide their services on a volunteer basis and who work under strict non-disclosure agreements. It is their contributions that help make Minalogic-certified projects so attractive to financers, resulting in the cluster's high acceptance rate for French and EU calls for projects.
Certain experts are selected by Minalogic for their scientific and technical expertise, others for their business experience and market knowledge. The cluster's technical directors call on the network of experts to help member companies refine their projects during the pre-certification process.
The experts examine each project carefully before it is submitted for certification, providing feedback and suggestions to boost the chances of obtaining project financing. They also issue their recommendations for certification to the Minalogic Board of Directors.
The Minalogic community of experts is made up of 85 professionals from academia and industry. Their skills cover the cluster's three main technologies and seven markets.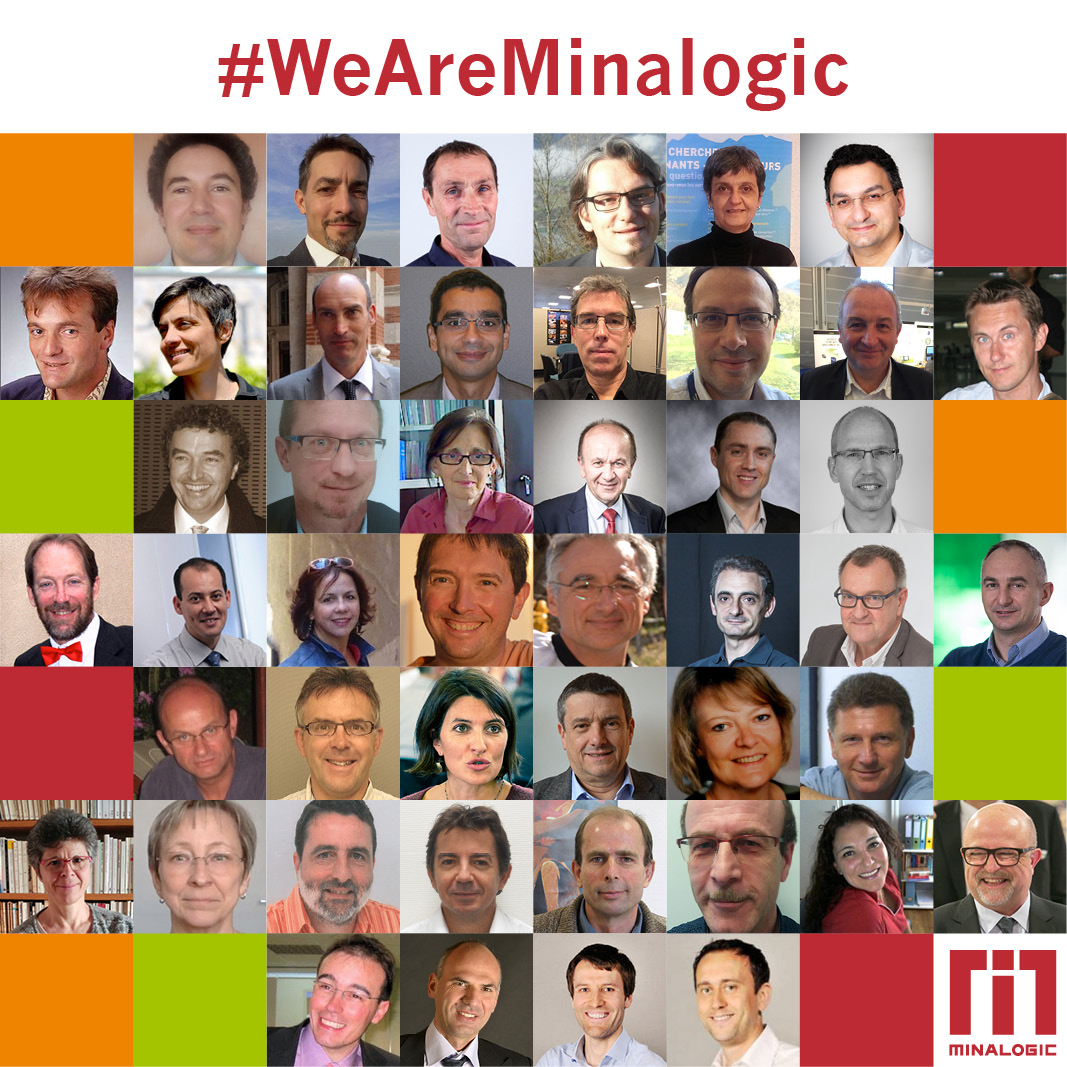 The Minalogic community of experts :
ARANDYELOVITCH Christian (Sogeti High Tech)
BARTHEL Dominique (Orange Labs)*
BERGERAND Jean-Louis (Schneider Electric Industries)*
BERTRAND Francois (CEA Leti)*
BOSSAN Frederic (Xenocs)*
BOUCHENAK Sara (INSA Lyon - Institut National des Sciences Appliquées)*
BOUSSEY Jumana (CNRS)*
BROQUIN Jean-Emmanuel (Grenoble INP - Institut polytechnique de Grenoble)
BRUCKERT Franz (Grenoble INP - Institut polytechnique de Grenoble)
BRUNEAUX Claudie (Atos Worldgrid)
CHABANIS Gilles (Schneider Electric Industries)*
CHALON Denis (Itris Automation Square)*
CHAMMINGS Yannick (Witekio)*
CHINAL Jeannie (Tronics Microsystems),
CINQUIN Philippe (Université Grenoble Alpes)*
COGOLUEGNES Aurelien (Hewlett Packard Enterprise)*
COSTA Jean-Yves (HARDIS)*
CROWLEY James (Grenoble INP - Institut polytechnique de Grenoble)*
DEMOTES-MAINARD Bertrand (THALES GROUPE)
DIMITRIOU Vincent (Atos Worldgrid)*
DIVERCHY Jean-Luc (e2v)*
DUBOST Laurent (IREIS - Institut de recherches en ingénierie des surfaces)
DUCLAUX Virginie (Becton Dickinson France)
DUDA Andrzej (Grenoble INP - Institut polytechnique de Grenoble)*
DUFOUR Emmanuel (Rolls-Royce Civil Nuclear)
DUPONT-NIVET Eric (CEA Grenoble)
ENGELS Lucille (Dolphin Intégration)*
FAURE Damien (Atos Worldgrid)*
FELLOUS Cyril (e2v)*
FENSCH Thierry (STMicroelectronics Grenoble)
FINCK Francois (STMicroelectronics Crolles)
GARAVEL Hubert (INRIA Grenoble - Rhône-Alpes)
GAU Olivier (Atos Worldgrid)*
GOGLIO Jean-Paul (EASii IC)*
GREVE Paul (CEA Grenoble)
GUEGAN Herve (Aselta Nanographics)
HEGEMAN Mathijs (Hewlett Packard Enterprise)*
JOONEKINDT Didier (Atos)
LACROIX Cecile (Soitec)*
LAYAIDA Nabil (INRIA Grenoble - Rhône-Alpes)*
LE GUET Catherine (Pfeiffer Vacuum SAS)
LETARTRE Xavier (INL - Institut Des Nanotechnologies De Lyon)*
LEVEUGLE Regis (Grenoble INP - Institut polytechnique de Grenoble)*
LEVON Gilbert (Atos Worldgrid)
LIGOZAT Thierry (e2v)*
MALICET Jean-Philippe (CAP'TRONIC)
MARANINCHI Florence (Grenoble INP - Institut polytechnique de Grenoble)*
MARTIN Nadine (CNRS Alpes)*
MATEO Francois (Coservit)
MEURANT Arnaud (Hewlett Packard Enterprise)
MOKHTARI Rachid (Coservit)
MONCHOIX Herve (Becton Dickinson France)
MOREAU-GAUDRY Alexandre (Université Grenoble Alpes)
MOUNIER Valerie (Atos Worldgrid)
MOUNIER Laurent (Université Grenoble Alpes)
MONTEIL Pierre (Rolls-Royce Civil Nuclear)
OUERDANE Youcef (Université Jean Monnet Saint-Etienne)*
PAINEAU Sylvain (Schneider Electric Industries)*
PAYAN Yohan (CNRS Alpes)*
PEBAY PEROULA Francois (Atos Worldgrid)
PIERRE Laurence (Université Grenoble Alpes)*
PIERREL Jean-Philippe*
PITEL Maurice (Schneider Electric Industries)*
PONS Dominique (Thales Groupe)*
RACAUD Olivier (Vision Systems)
REIBEL Yann (Sofradir)
RENARD Stéphane (Tronics)*
RICHOUX Bruno (Coservit)
RODRIGUES Sergio (Xenocs)*
ROUZAUD Andre (CEA Leti)
SAIAS Daniel (Asygn)*
SAVELLI Laurent (STMicroelectronics Grenoble)
SENESCHAL Jerome (Vision Systems)*
SERNA Livier (UXfix Solutions)*
SOLVAY Jean-Philippe (Grenoble Ecole de Management)*
SORS Henri (Fireflies Rtls)
TCHAGASPANIAN Michael (CEA Grenoble)*
THEPAUT Yannick (EASii IC)*
THOMAS Dominique (STMicroelectronics Grenoble)
VEYRES Serge (Alpwise)
VUILLERMET Michel (Sofradir)*
WENK Beatrice (Tronics Microsystems)*
* (on the picture)