Vincent Biancale comes to Minalogic to head the cluster's software activities
05/10/2020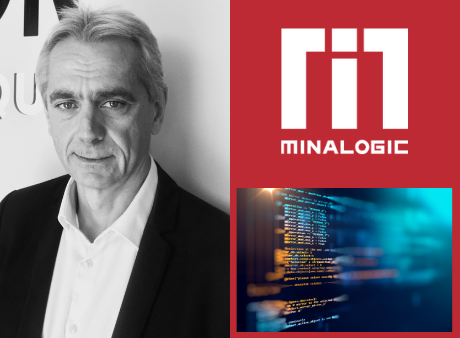 Vincent Biancale joined the Minalogic team on September 1, 2020 to head the cluster's software activities and provide members with his expert insights into their innovation projects. Before he came to Minalogic, Vincent worked as a Channel Manager and Sales Specialist for IBM's Software Business Unit, where he supported the company's data integration, BI, AI, data, and automation solutions.
«I was looking for a new environment within a smaller organization focused on innovation in advanced technologies. I was won over by Minalogic's capable, professional, motivated, dynamic, and enthusiastic team and the way they all work together toward the common goal of expanding the cluster's reach. Minalogic is offering me the chance to discover fields like photonics, micro and nanoelectronics, content, and user-driven development, which are new to me. I am also looking forward to working within an ecosystem with huge financial and technological ambitions. I am excited about helping companies succeed with their innovation projects.»
According to Philippe Wieczorek, who heads R&D and innovation activities at Minalogic, «Vincent is here under a special arrangement with IBM. He has been assigned to Minalogic through IBM, but his contract ensures his total independence in carrying out his missions for the cluster.»
In his capacity as head of Minalogic's software activities, he will:
Help Minalogic members complete their grant proposals and financing applications.
Coordinate the Auvergne-Rhône-Alpes region's software community.
Serve as expert on the Factory of the Future market.
A career spanning science and industry
«I started my career at Rhône Poulenc as a consultant for CAP Sogeti and Sopra. I then moved on to software, taking a position at Metsys, now Infor, as head of the company's financial and accounting software business in the Rhône-Alpes region. This led me to IBM subsidiary Progipart, where I managed financial and accounting and ERP software and software partners.
My most recent experience was at IBM, where I spent the past four years as an account manager, first with the IBM Hosting Services BU and, later, the Software BU.»
A member of the R&D and innovation and Lyon teams

Philippe Wieczorek, Director R&D and Innovation, said «Vincent's senior management profile and broad, deep experience on the software and services markets will be a major benefit for Minalogic, not only for our innovation activities, but for our members' business growth as well. For Minalogic, this latest recruitment is the next step in the software strategy we initiated several years ago. Vincent's arrival will also bolster our Lyon office. The scope of Vincent's mission is the entire region. Initially, however, he will focus on Lyon and the Rhône, Loire, and Auvergne districts.
On behalf of the entire Minalogic community, I would like to wish Vincent a warm welcome! »

Want to know more? Contact: