Interview with Serge Maginot - Tiempo
03/05/2018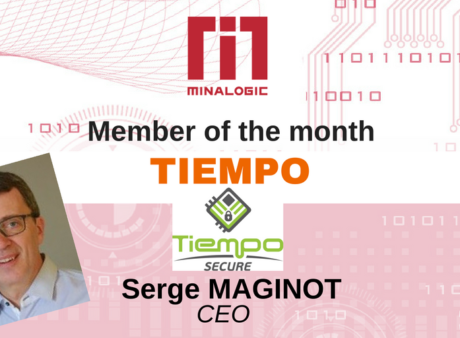 Serge Maginot
CEO
Serge Maginot, Tell us about Tiempo :
SM : "We founded Tiempo just over ten years ago to develop and scale up an innovative integrated circuit technology for manufacturing. We leveraged our clockless chip technology to develop IP blocks and circuits for secure and low-power applications.
In 2012 we began focusing on the design of secure microcontrollers for payment cards and government documents. Last year our TESIC-SC encryption circuit and software obtained Common Criteria EAL5+ certification from ANSSI for these markets. We are currently launching sales of the product.
Since 2016 we have also been working on a new version of our secure circuits for IoT markets. The idea is to bring these very diverse and fragmented markets an end-to-end security solution, from the connected device's secure element right up to connected device security management, with updates of encryption keys and firmware from the cloud."
What made you decide to join Minalogic ?
SM : " We joined Minalogic back in 2007 and we are still here! Tiempo is very loyal to Minalogic.
In the early days, our main motivation was to take advantage of Minalogic's support services for collaborative R&D projects and, in particular, projects financed by the French Single Interministerial Fund. We also wanted to be part of an ecosystem of high-tech companies with businesses similar or complementary to our own.
As CEO of Tiempo, I have also been on the SME Council since 2015, evidence that Tiempo is strongly committed to the cluster's SME ecosystem. The SME Council's mission is to represent the interests of SMEs within Minalogic and to make constructive recommendations for the development of Minalogic's roadmap."
What collaborative R&D projects are you involved in ?
FM : " Tiempo has been the lead on three French Single Interministerial Fund projects :
ASTEC, which was set up to develop a library of asynchronous IP blocks using Tiempo's clockless technology, including a microcontroller core and generic communication and sensor interfaces optimized in particular for the design of very-low-power embedded systems and secure applications.

ASMART, the purpose of which was to design an ultra-fast, secure integrated circuit for contactless smart cards using a 100% asynchronous technology. The prototype that resulted from the project was the forerunner of our TESIC-SC product.

SECURIOT-2, which is still in progress. The goal of this project is to develop the specifications for and design an end-to-end security solution for IoT from the secure element circuit integrated into connected devices to cloud-based security management services for connected devices."
What services have you used since joining Minalogic ?
SM : " We received very effective support from the people at Minalogic putting together our French Single Interministerial Fund projects and getting them certified. We have also taken advantage of the networking opportunities available and all of the business-oriented events, like the Open Innovation Days that Minalogic regularly organizes. We have also exhibited at Minalogic group booths at international trade fairs (IoT Asia in Singapore in 2017 and 2018 and SIdO in Lyon in 2018).
Minalogic's support with the French Single Interministerial Fund projects was a decisive factor in these projects, which represent a significant proportion of our R&D. And the group exhibit booths at international trade fairs gave us an opportunity to explore IoT markets in France and in Asia for the first time at a reasonable cost to our company."
What types of partnerships are you looking for as a Minalogic member ? Business ? Innovation ?
SM : " We have already found quite a few R&D partners within the Minalogic ecosystem.
We are now also seeking business partners—whether they are from Minalogic or other French or European clusters—to broaden our product range and address new markets.
Tiempo has built its industrial model on partnerships mainly with other SMEs in France or other European countries. We firmly believe that this external growth model is the right one and feel that Minalogic is positioned to support us in this strategy."